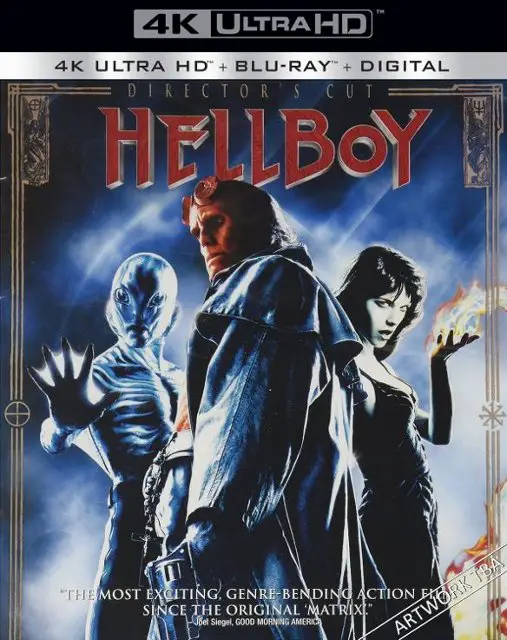 [Update: This article has been revised as Hellboy (2004) is no longer available on Best Buy. The title seems to have been delayed for 4k release. However, Starz's Hellboy Animated Double Feature and Hellboy II: The Golden Army will release to 4k Blu-ray.]
Guillermo del Toro's Hellboy (2004) is releasing to 4k Blu-ray Disc, along with two other Hellboy titles listed on Best Buy. This will be the first time Mike Mignola's hell-born character will be presented in 4k video for home viewing, and is definitely something to look forward to with the recent news about Samsung dropping production of 4k Blu-ray players.
We don't have specifics yet on the 4k release, or final cover artwork (the above pic just uses the older Blu-ray cover), but given Sony's re-issue of older flicks to 4k Blu-ray, we expect an expanded color palette with HDR10 and hopefully upgraded soundtrack. Also note this will likely be the Director's Cut, which adds another 10:31 to the theatrical version. Hellboy (2004) is available to pre-order from Best Buy for $22.99 or Walmart for $19.95. [Note: As of Mar. 1, 2019 these items are either missing or listed as out of stock.]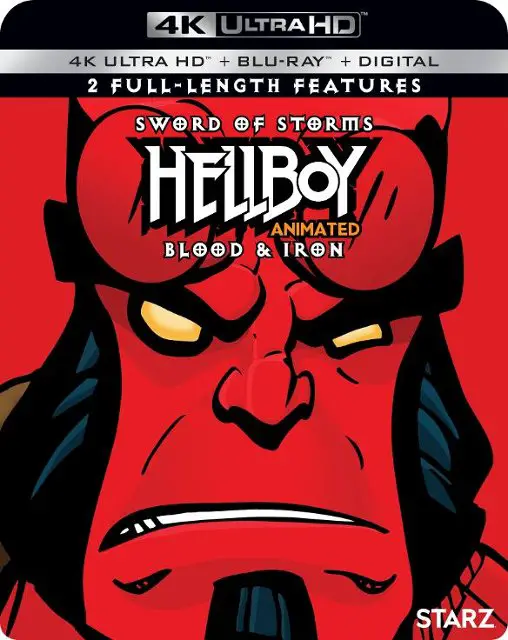 The Hellboy Animated Double Feature that was previously released to Blu-ray Disc will also release to UHD BD. The double feature includes the two full-length features "Sword of Storms" and "Blood & Iron" in the exact packaging as the Blu-ray edition except for the black Ultra HD strip at the top. The Double Feature is available to pre-order for $17.99.
In addition, Hellboy II: The Golden Army on UHD BD is listed on Best Buy as a pre-order but details of the product sku are not available. The listing can be purchased without a problem for $21.99 with a release date of May 7, 2019, but again artwork and details are not currently viewable.
No word yet about additional Hellboy titles headed for UHD BD, or whether or not Best Buy will issue a 4k SteelBook edition of Hellboy (2004) with custom art. Let's hope they do, and hoping even more a Mike Mignola illustration of Hellboy would be featured on the cover.
You can also expect the Hellboy films to launch in 4k on digital platforms such as iTunes, Prime Video and Vudu — maybe soon after the disc releases. Apple should automatically upgrade your HD version if already purchased, but other services may require the UHD to be bought separately.
The release of Hellboy (2004) anticipates the premiere of Hellboy (2019) in theaters on April 12, 2019, which stars David Harbour, Milla Jovovich and Ian McShane.