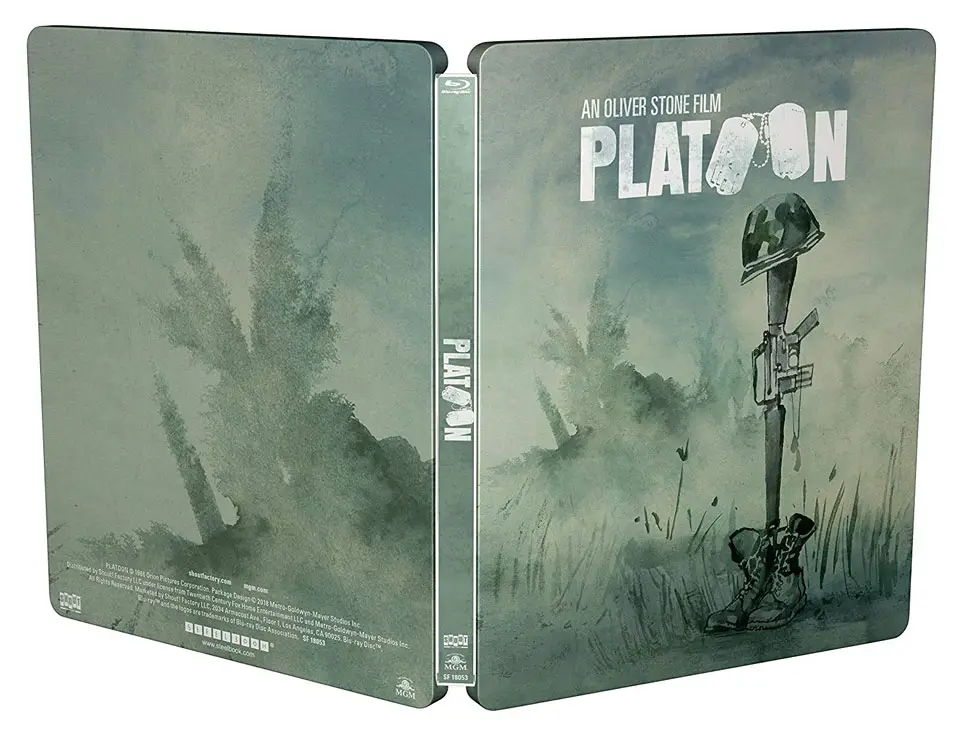 Shout! Factory will release a special Steelbook Limited Edition of the 4-time Oscar-winning film Platoon on September 18. The new 1080p Blu-ray video was sourced from a remastered 4k transfer of the film approved by writer/director Oliver Stone, presented in 1.85:1 widescreen aspect ratio.
Shout! hasn't provided audio options, but Limited Edition should at least offer an English 5.1 DTS-HD Master Audio soundtrack like the 25th Anniversary Edition released in 2011.
Bonus features are definitely the same as the 25th Anniversary Edition, with deleted and extended scenes, three featurettes, two documentaries, and audio commentary from both Oliver Stone and military advisor Dale Dye.
Platoon was written and directed by Stone and stars Charlie Sheen, Tom Berenger, Forest Whitaker and Willem Dafoe in a grimacing tale of the horrors of the Vietnam war. The film was nominated for a total of 8 Academy Awards, most notably winning Best Picture (producer, Arnold Kopelson) and Best Director (Oliver Stone).
'Platoon' Bonus Features
From A Brand-New 4K Restoration, Approved By Oliver Stone
Audio Commentary By Writer-Director Oliver Stone
Audio Commentary By Military Advisor Dale Dye
Deleted And Extended Scenes With Optional Commentary By Oliver Stone
Flashback To Platoon: "Snapshot In Time: 1967 – 1968"
Flashback To Platoon: "Creating The 'Nam"
Flashback To Platoon: "Raw Wounds: The Legacy Of Platoon"
Documentary: "One War, Many Stories"
Documentary: "Preparing For 'Nam"
Featurette: "Caputo & The 7th Fleet"
Featurette: "Dye Training Method"
Featurette: "Gordon Gekko"
Theatrical Trailer
TV Spots
Platoon SteelBook Limited Edition has a suggested retail price of $22.99.