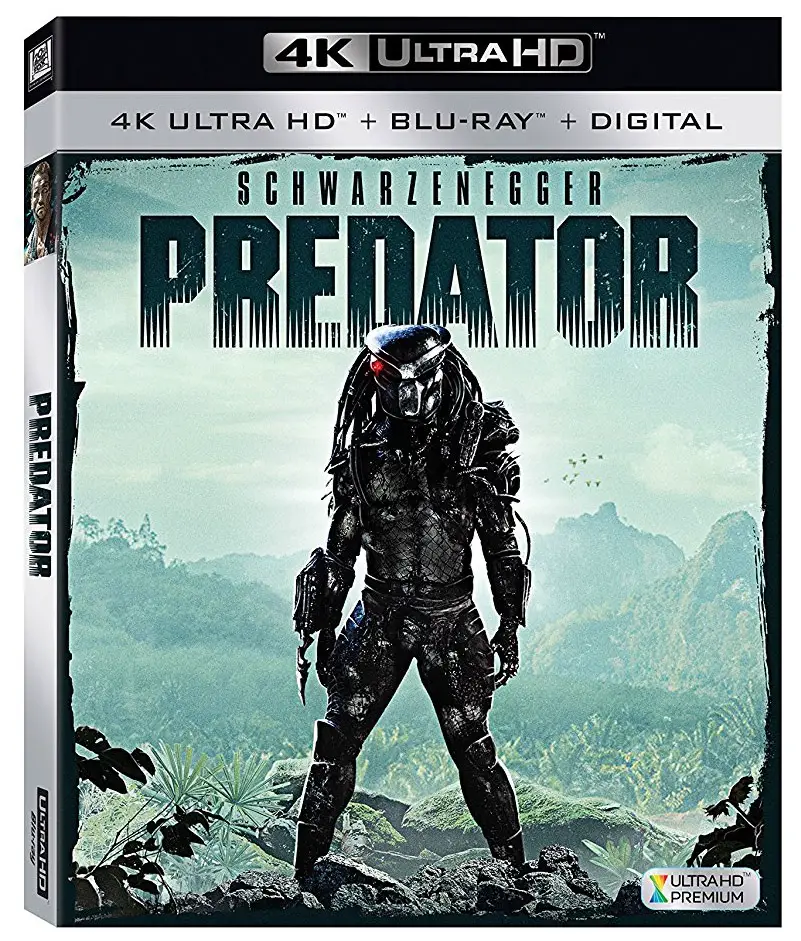 "Get to the chopper!" 20th Century Fox will release the late 80's action film Predator to 4k Ultra HD Blu-ray on Tuesday, Aug 7th. With an "Audience Score" of 87%, Predator is one movie in which the action never seems to stop from beginning to end.
You can't go wrong with the cast of Predator either. Arnold Schwarzenegger (before he got distracted with politics) stars as Dutch, a former US Army major who leads a team on a rescue mission in Central America, only to find there something much more dangerous than then guerrilla soldiers they face.
Dutch's team stars Carl Weathers as CIA operative Al Dillon, Jesse Ventura as Blain Cooper, and Bill Duke as Mac, along with Elpidia Carrillo as the guerrilla soldier Anna Gonsalves.
On 4k Blu-ray, Predator is presented in 2160p resolution at 1.85:1 widescreen ratio. The disc also features deep color with High Dynamic Range on TVs that support the HDR10 specification.
Audio formats haven't been revealed yet, but previous Blu-ray editions (and there have been many) of Predator have provided the English soundtrack in 24-bit DTS-HD Master Audio 5.1. We're hoping this new edition has upgraded the audio to Dolby Atmos or DTS:X, or at least a 7-channel mix to go along with the improved video.
The 2-disc combo edition of Predator on 4k Blu-ray is available to pre-order for $34.19 (MSRP: $39.99). In addition to the 4k Blu-ray, a new 1-disc Blu-ray edition will include a Digital HD copy and is available to pre-order for $10.01 (MSRP: $14.99). See product thumbnails below for updated pricing. In addition, FOX has packaged a 3-Movie Collection with all three of the Predator-franchise films including Predator, Predator 2, and Predators. The collection is available to pre-order for $47.30 (MSRP: $59.99)
The re-release of Predator to Blu-ray will come about a month before 20th Century Fox's The Predator hits theaters on Sept. 14, 2018.
[amazon_link asins='B07DKN1F5J,B07DQMMPJZ' template='ProductGrid' store='API-user-hdr' marketplace='US' link_id='f5ce2d81-7998-11e8-b76a-f122c5e0bf43′]