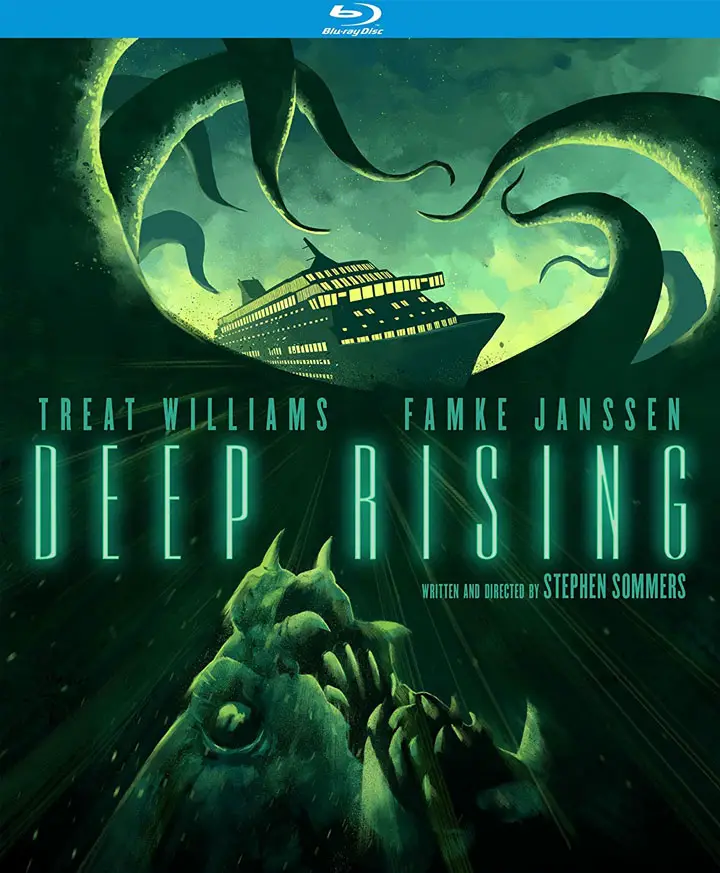 Kl Studio Classics will release the late nineties action/horror film Deep Rising to a new Blu-ray edition on August 21, 2018. The film was previously available in a double feature combo with The Puppet Masters (1994), but this new release will celebrate the 20th Anniversary of the movie in a single-disc edition with Limited Edition O-Card Slipcase.
Deep Rising stars Golden Globe-nominated Treat Williams and X-Men franchise actress Famke Janssen. The film was written and directed by Stephen Sommers, also known for his work on The Mummy and Van Helsing franchises. Anthony Heald (The Silence of the Lambs), Kevin J. O'Connor (Color of Night), and Wes Studi (The Last of the Mohicans) also star in Deep Rising.
The film has bit of a cult following. Look up the trailer on you'll find such comments such as "I don't care what the critics say the movie is badasssssss," "This movie was brilliant, perfect mix between horror and fun!," and "I'm so glad this movie is gonna get the collectors edition blue ray it finally deserves."
Bonus materials include over a dozen interviews with cast members, crew and Director Stephen Sommers. There are also behind-the-scenes extras, an animated film gallery, and audio commentary with Sommers and Editor Bob Ducsay. Under 1080p (HD) presentation of Deep Rising, the audio is provided in 5.1 Surround and Lossless 2.0 Stereo Audio.
The reversible cover art (pictured above) features a commissioned illustration by UK artist Jacob Phillips.
Special Features:
Audio Commentary by Director Stephen Sommers and Editor Bob Ducsay
Interview with actor Wes Studi
Interview with actor Kevin O'Connor
Interview with actor Anthony Heald
Interview with second unit director Dean Cundey -Interview with VFX John Berton (ILM)
Interview with VFX Van Ling (Banned from the Ranch Entertainment)
Interview with Brad Proctor (SFX/Make-Up)
Interview with Doug Morrow (SFX/Make-Up)
Interview with Cinematographer Howard Atherton
ILM Behind-the-Scenes Extras (Animatic Sequence/Creature/Tests/Etc.)
Newly Commissioned Art by Jacob Phillips
Animated Image Gallery (Stills and Behind-the-Scenes)
Reversible Blu-ray Art
Limited Edition O-Card Slipcase
5.1 Surround and Lossless 2.0 Stereo Audio
Theatrical Trailer
[amazon_link asins='B07DKV22HZ' template='ProductGrid' store='API-user-hdr' marketplace='US' link_id='287a1a0d-74a0-11e8-9b6a-a7087d755251′]