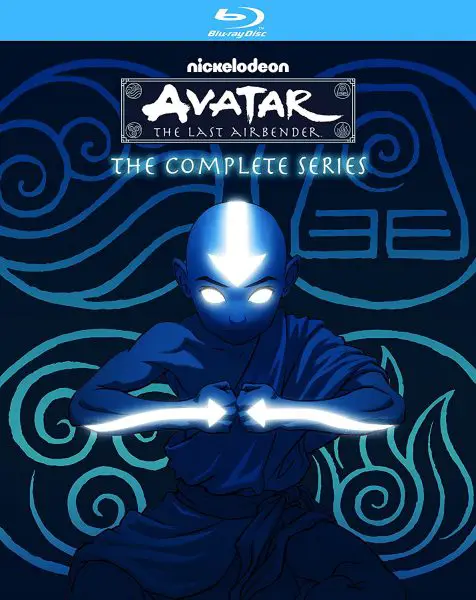 Avatar – The Last Airbender is an American television series first premiering in 2005 that ran 61 episodes through 2008. Previously released to DVD, the animated series from Nikelodeon will soon be available in complete form on Blu-ray Disc starting exclusively at Best Buy on May 1, 2018. The complete edition will then arrive more globally including at Amazon.com on June 5, 2018.
The upscaled 1080p video is encoded in MPEG-4 (AVC) with a English soundtrack in DTS-HD Master Audio 5.1. Each "Book" contains the episodes and special bonus features.
The 9-disc Blu-ray set ($49.99) from Paramount Home Media has a total runtime of 1464 minutes, covering all three seasons of Avatar – The Last Airbender that aired on Nikelodeon.
Synopsis: From the discovery of Avatar Aang in the frozen iceberg to the mastery of all four elements, from the battle at Ba Sing Se to the final showdown with the Fire Nation, your destiny awaits as you relive all the powerful bending that will blow you away once more!
[amazon_link asins='B07BC5STNG' template='ProductGrid' store='API-user-hdr' marketplace='US' link_id='2cb70d1d-2ef1-11e8-90cd-731975dae90f']
BOOK ONE: WATER
DISC ONE:
The Boy in the Iceberg
The Avatar Returns
The Southern Air Temple
The Warriors of Kyoshi
The King of Omashu
Imprisoned
Winter Solstice Part 1: The Spirit World
Winter Solstice Part 2: Avatar Roku
Bonus features:
Behind the Scenes Kung Fu Featurette
The Making of Avatar-From Real Life to Animation
DISC TWO:
The Waterbending Scroll
Jet
The Great Divide
The Storm
The Blue Spirit
The Fortuneteller
Bato of the Water Tribe
The Deserter
Bonus features:
Behind the Scenes: The Voices of Avatar
Ask the Creators Featurette
Original Uncut Anamatic – (25 minutes of animated raw sketches from episode #15)
DISC THREE:
The Northern Air Temple
The Waterbending Master
The Siege of the North, Part 1
The Siege of the North Part 2
Bonus features:
Audio Commentary with Creator, Cast & Crew: Chapter 17 with Dee Bradley Baker (voices of Momo and Appa) and Ben Wynn (sound effects). Chapters 18-20 with Aaron Ehasz (Head Writer) and Co-Creators: Bryan Konietzko and Michael Dante DiMartino
Behind the Scenes with the Avatar Cast & Crew
Avatar Pilot Episode with Audio Commentary
The Making of Avatar – Inside the Sound Studios
The Making of Avatar – Inside the Korean Animation Studios
BOOK TWO: EARTH
DISC ONE:
The Avatar State
The Cave of Two Lovers
Return to Omashu
The Swamp
Avatar Day
The Blind Bandit
Zuko Alone
The Chase
Bonus features:
Original Uncut Animatic: Episode # 21 (The Avatar State)
Audio Commentary by Creators, Cast & Crew (Eps 6 & 8)
DISC TWO:
Bitter Work
The Library
The Desert
The Secret of the Fire Nation
City of Walls and Secrets
Tales of Ba Sing Se
Appa's Lost Days
Bonus features:
Audio Commentary by Creators, Cast & Crew (Eps 12 & 14)
DISC THREE:
Lake Laogai
The Earth King
The Guru/The Crossroads of Destiny
Bonus features:
Audio Commentary by Creators, Cast & Crew (Eps 17, 18, & 20)
Interview with Creators and M. Night Shyamalan
The Essence of Bending with Bryan Konietzko and Sifu Kisu
Avatar Super Deformed Shorts:
Bending Battle
Swamp Skiin' Throwdown
School Time Shipping
Escape From the Spirit World: Animated Graphic Novel
BOOK THREE: FIRE
DISC ONE:
Awakening
The Headband
The Painted Lady
Sokka's Master
The Beach
The Avatar and the Firelord
The Runaway
The Puppetmaster
Bonus features:
Audio Commentary by Creators & Crew (Eps 4, 5 & 6)
DISC TWO:
Nightmares and Daydreams
Day of Black Sun
The Western Air Temple
The Firebending Masters
The Boiling Rock
The Southern Raiders
Bonus features:
Audio Commentary by Creators & Crew (Eps 10, 11 & 12)
DISC THREE:
The Ember Island Players
Sozin's Comet
Bonus features:
Bonus Audio Commentary by Creators, Cast & Crew on all 6 Chapters
The Women of Avatar: The Last Airbender
Book 3 Finale Pencil Test Animation
Into the Fire Nation at San Diego Comic-Con
[amazon_link asins='B07BC5STNG' template='ProductGrid' store='API-user-hdr' marketplace='US' link_id='2cb70d1d-2ef1-11e8-90cd-731975dae90f']