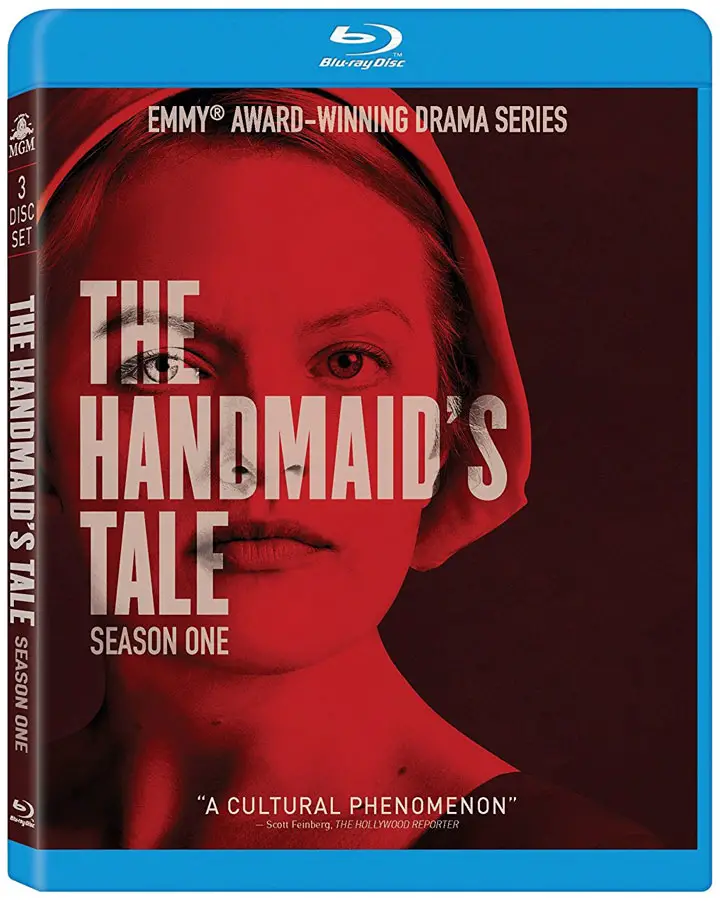 Golden Globe and Emmy award-winning series The Handmaid's Tale is getting its first season released to disc on March 13, 2018. The original Hulu show will be available on both Blu-ray and DVD just about a month before season two premieres on Wednesday, April 25.
The Handmaid's Tale on Blu-ray and DVD includes all ten episodes of the first season that was directed by Bruce Miller and stars Elisabeth Moss, Yvonne Strahovski, and Max Minghella.
In addition, the 3-disc Blu-ray and DVD editions feature the bonus content "From Script to Screen" and "Hope in Gilead" providing insight to the show creation and impact on American viewers.
The Blu-ray from Fox/MGM is presented in 1080p resolution at 1.78:1 aspect ratio, while the DVD is 480p at 1.78:1. Total run time is 525 minutes. The audio is only provided in 2-channel for this release This was a spec mistake. The audio is presented in DTS-HD Master Audio 5.1. There are optional English SDH, Spanish, and French subtitles.
Special Features
From Script to Screen – Go inside the premiere episode's "Salvaging", a harrowing scene where Handmaids violently participate in the execution of an alleged attacker. Interviews with series Showrunner/Executive Producer Bruce Miller, Elisabeth Moss, Ann Dowd and Madeline Brewer, as well as an in-depth look at the story points, character arcs and complexity of shooting this sequence with Director of episodes one through three, Reed Morano.
Hope in Gilead – Examine the reasons why "THE HANDMAID'S TALE" has captivated millions and become a cultural phenomenon. The cast and crew discuss parallels with today's political climate as well as the series' themes of hope, resilience and the fight for freedom.
Synopsis
Based on Margaret Atwood's award-winning, best-selling novel, "THE HANDMAID'S TALE" is the story of life in the dystopia of Gilead, a totalitarian society in what was formerly the United States. Facing environmental disasters and a plunging birthrate, Gilead is ruled by a twisted fundamentalist regime that treats women as property of the state.
[amazon_link asins='B07896K9W1,B075RT1NYK' template='ProductGrid' store='API-user-hdr' marketplace='US' link_id='5db40526-1da8-11e8-9c39-b15e16916546′]