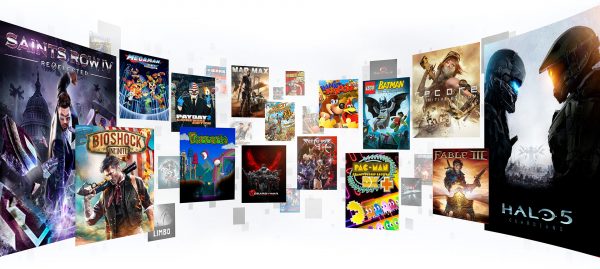 It was always a big deal buying a new game when I was growing up. That was during a time when games rarely dropped below the $60 mark in the first year of their release. It was also a time when you didn't always have the best information about the game you were buying. As such, diving into the bargain bin of discounted games could mean that you end up with at $30 title you wouldn't have bought for a dollar.
There's something to be said for the thrill of having every game purchase feel like an event, but that wasn't exactly the most consumer-friendly era of gaming. Truth be told, I'm a way bigger fan of the modern era. Games are significantly cheaper, there's a lot more information about them, and it's so easy to refund most titles in the modern age that you never feel bad when you do have to take a risk. If you own a PC, you can even get eight games delivered to your computer for $12 a month through Humble Monthly. That's pretty exciting.
However, there are few ideas in gaming quite as exciting as the idea of a video game streaming service.
To be honest, it's a little tricky to defend or praise video game streaming services simply because the industry hasn't yet agreed on what a video game streaming service should look like. For instance, PlayStation Now lets you access a growing library of PlayStation 3 titles (and even some PlayStation 4 titles) via your PlayStation 4 or PC for just $9.99 a month. Nvidia Geforce Now lets you play quite a few modern PC titles via your Nvidia Shield. Xbox Game Pass – perhaps the best service of them all – features a sizeable collection of Xbox 360 and Xbox One titles that can be accessed with incredible ease.
Considering that many of these streaming services are only a couple of years old (if that) and that they're all relatively unproven, many gamers wonder if streaming services really are the future of game delivery or just a flash in the pan. To be honest, it's starting to feel like these games are the future of gaming because they have to be.
As great as the modern digital marketplace is, it's not perfect. It's incredibly difficult for indie and AA developers to get their titles noticed on the most popular of online stores even if they're of good quality. Meanwhile, you've got some of the biggest publishers developing more and more titles designed to support a steady influx of content add-ons for years after their release. This means that more and more gamers are willing and able to pick a single game (or a couple) and devote their time and gaming budget towards it.
Video game streaming services – even in their earliest forms – address this issue. They offer a way for gamers to spend a relatively small amount of money and not only experience games they may not have otherwise, but types of games they might not have otherwise. Not only is this good for gamers, but it helps the traditional marketplace by encouraging people to possibly purchase a variety of games. It's like how movie studios like A24 and Neon are helping to combat the Disney dominance of movie theaters.
We doubt that streaming services will be the only method of video game delivery, but it deserves to be part of the industry's future.