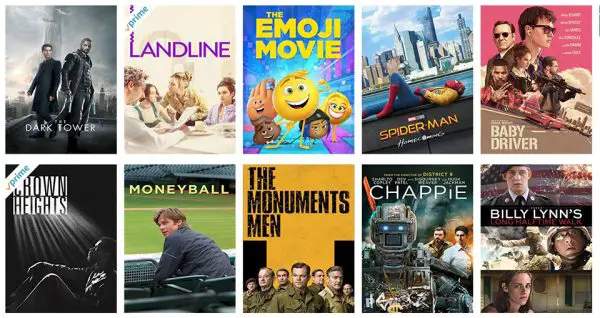 Amazon has quietly started selling digital movies and TV shows their website Amazon.com. The 4k titles are priced similarly to Apple's lineup of UHD titles, which typically sell for $19.99 — the same price as an HD movie.
Amazon's selection includes hit movies such as Flatliners, Spider-Man: Homecoming, The Dark Tower, and Valerian and the City of a Thousand Planets, ranging in price from $12.99 to $24.99.
But not all movies are available in 4k, in fact, a good number of titles such as Baby Driver, Bad Moms, Despicable Me 3, and Guardians of the Galaxy can still only be purchased in SD/HD.
They've also got a selection of TV shows in Digital UHD like Better Call Saul, Breaking Bad, Blacklist, and Masters of Sex starting at $24.99 for a single season. The Netflix Original House of Cards is also listed in UHD, but only the first two seasons are available, priced at $46.99 for each season.
The ability to purchase 4k UHD titles on Amazon.com gives customers an easy option for adding titles to their digital library that can be played through the Amazon Prime Video app on supporting devices and 4k UHD TVs. The one disclaimer you'll find with each title is the requirement of a (HDCP)-compliant display that ensures copy protection.
Selected 4k UHD Titles on Amazon
Movies
Flatliners $19.99 (UHD)
Fury $18.99 (UHD)
Hickok $12.99 (UHD)
Life $19.99 (UHD)
Moneyball $19.99 (UHD)
Smurfs: The Lost Village $17.99 (UHD)
Spider-Man: Homecoming $19.99 (UHD)
The Dark Tower $24.99 (UHD)
Valerian and the City of a Thousand Planets ($19.99 (UHD)
TV Shows
Better Call Saul – 3 Seasons $34.99 ea. (UHD)
Blacklist – 3 Seasons $54.99 ea. (UHD)
Breaking Bad – 5 Seasons $25.99 ea. (UHD)
House of Cards – Seasons 2, 3 $46.99 ea. (UHD)
Masters of Sex – Seasons 1, 2 starting at $44.99 (UHD)
Sojourns (23 minutes footage) $19.99 (UHD)