This Tuesday there are only two Ultra HD Blu-ray discs releasing, and each couldn't be more different. From the DC Universe Original Movie collection comes the animated film Batman and Harley Quinn, and from Paramount Pictures the movie adaption of the bubbleheaded TV show Baywatch. Let's take a look at some details that matter below.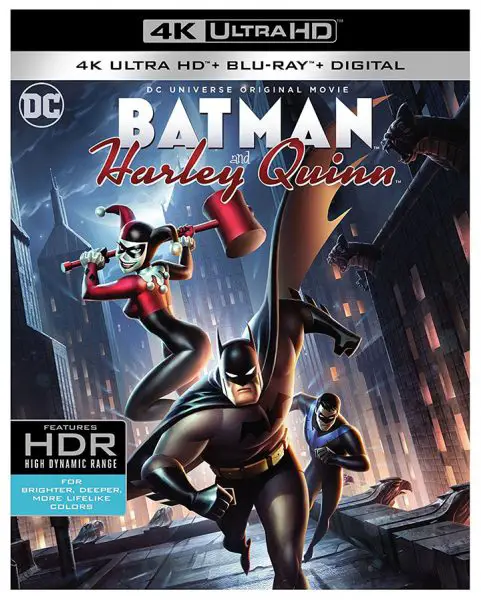 Batman & Harley Quinn
Written by Bruce Timm and directed by Sam Liu, the animated film Batman and Harley Quinn partners Batman, Nightwing and the devilish Harley Quinn to defeat Poison Ivy and the Floronic Man.
On 4k Blu-ray, the movie is presented in 2160p at 16×9 (1.78:1) aspect ratio with HDR color. Audio, unfortunately, doesn't match the high quality of other 4k Blu-rays with only DTS-HD Master Audio 5.1.
As far as extra content, Batman and Harley Quinn includes the featurettes "The Harley Effect" and "Loren Lester: In His Own Voice," a sneak peek at "Batman: Gotham by Gaslight," and two bonus cartoons. And, there's a digital copy redeemable with UltraViolet (not iTunes).
Batman and Harley Quinn on Ultra HD Blu-ray carries an MSRP of $24.99, but is selling for $17.99 on Amazon. (See below for current pricing.)
Baywatch
Adapted from the 80's/90's TV show that starred David Hasselhoff and Pamela Anderson, Baywatch (2017) is an action/comedy that rides on the coattails of blockbuster actor Dwayne Johnson and the exposition of bikini models on the big screen. Is that enough to buy it?
On 4k Blu-ray, Baywatch is presented in 2160p at 16×9 (2.39:1) widescreen aspect ratio with color enhancements via the High Dynamic Range specification (if you have an HDR TV.) The audio meets typical 4k Blu-ray standards with an English soundtrack in Dolby Atmos that's backwards compatible with Dolby TrueHD 7.1.
In terms of extras, Baywatch includes the featurettes "Meet the Lifeguards," "Continuing the Legacy," and "Stunts & Training," as well as deleted and extended scenes. A digital copy is also provided redeemable with iTunes or UltraViolet.
Baywatch on Ultra HD Blu-ray carries an MSRP of $48.99 but is selling for half that price. (See below for current pricing.)
[amazon_link asins='B071FQB63G,B07239FN76′ template='ProductGrid' store='API-user-hdr' marketplace='US' link_id='0307a8f2-8c52-11e7-9b70-8d5164a4220e']