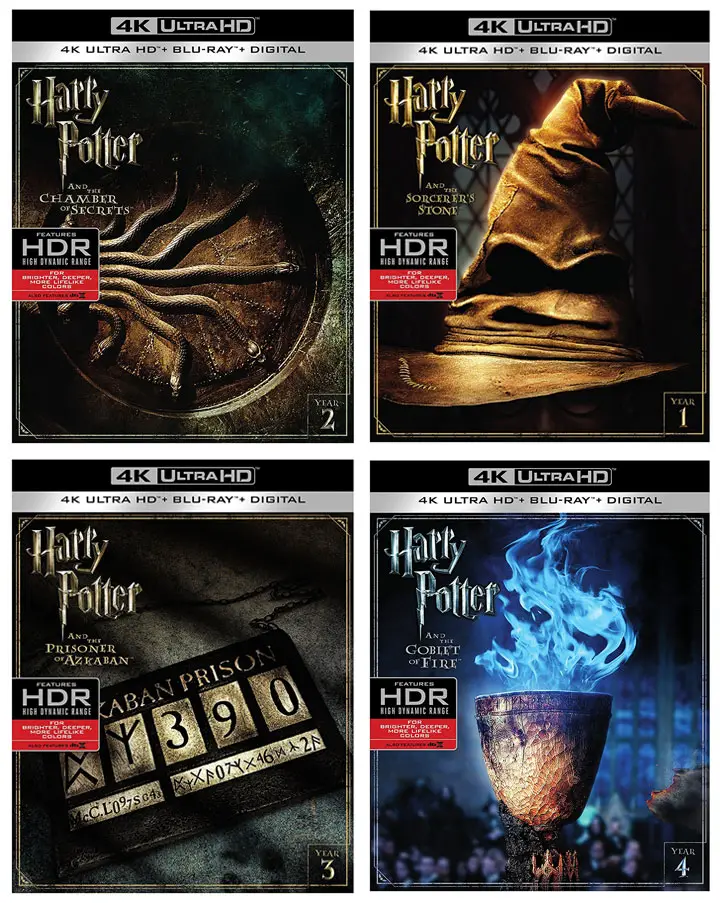 Back in March, four of the later Harry Potter films were released to Ultra HD Blu-ray Disc. Now, the remaining earlier films have been slated for 4k release on Oct. 3 Nov. 7, 2017 including Harry Potter and the Sorcerer's Stone (2001), Harry Potter and the Chamber of Secrets (2002), Harry Potter and the Prisoner of Azkaban (2004), and Harry Potter and the Goblet of Fire (2005).
On 4k Ultra HD Blu-ray, the Harry Potter films are presented in 2160p resolution with High Dynamic Range color enhancements for 4k HDR TVs that support the specification. And, audio is provided in object-based immersive DTS:X surround sound.
As far as extras, they will be the same as previously released to other disc editions but likely in standard Blu-ray (1080p) resolution. The 4k Ultra HD Blu-ray combo editions will also include Blu-ray and Digital HD copies of the film.
Warner Bros. says the Harry Potter titles will also be able to purchase digitally in 4k UHD, but we haven't seen them show up yet on any digital services.
As of now the 4k Blu-ray titles are not listed for pre-order, but we expect them to carry a suggested retail price of $44.95 each. The already-released Harry Potter films on 4k Blu-ray sell for about $30 per title.
We'll update you when we get official artwork and details about these titles.
[amazon_link asins='B075VVYQGN,B075W1L85B,B075VWL951,B075W1LFWP' template='ProductGrid' store='API-user-hdr' marketplace='US' link_id='d2e8000f-b87a-11e7-a82b-5bcd2e42e8f9′]