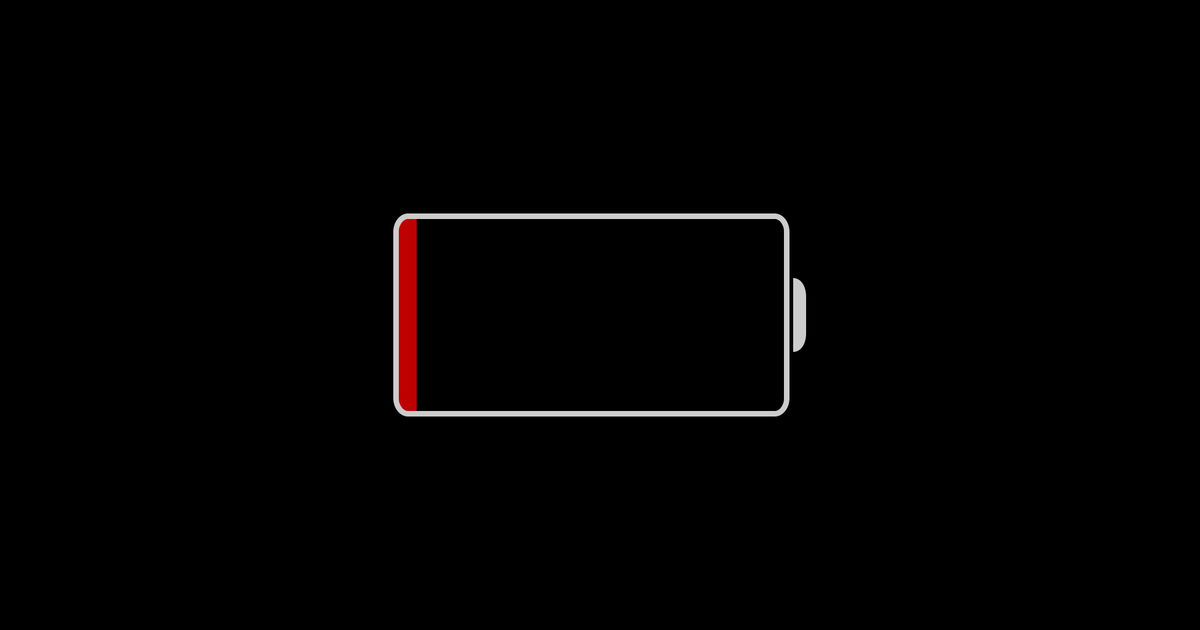 Is your iPhone battery getting older? Or do you just run too many apps to maintain decent battery life on your phone or tablet? The reality is apps can demand a lot of battery power, especially ones that stay in communication with a server. Those notifications and pop up messages come with a cost — they are using processing power one way or another!
And, if you're someone who runs one app at a time because this is what you were told to do to conserve battery power, it appears closing apps doesn't actually help. Apple's Senior Vice President of Software Engineering Craig Federighi confirmed over a year ago that closing apps doesn't actually improve battery life.
Federighi told 9to5mac that "on a technical level, most of the apps are either frozen in RAM or not running at all" when in the background. However, if the apps are performing operations they could be using battery life (see more below about "Background App Refresh") and should be either shut down or configured to not be running the background.
Airplane Mode
Airplane Mode defeats the purpose of having a phone (and internet-connected smartphone) because you won't receive any calls or text messages, but as the iPhone connects and communicates with Wi-Fi and Cellular networks it is draining a lot of battery. Even while your phone is not connected to Wi-Fi it can be looking for local networks to connect to. Turn it off! (This is also true for tablets, laptops, etc.)
Low Power Mode
iPhone will offer Lower Power Mode when your battery reaches 20% left. The setting shuts down the screen quicker than your normal setting and stops functions like Siri, background app refresh, and automatic downloads all to conserve power. Apple says you can get several hours more battery life by using Low Power Mode. The feature has been available since iOS 9.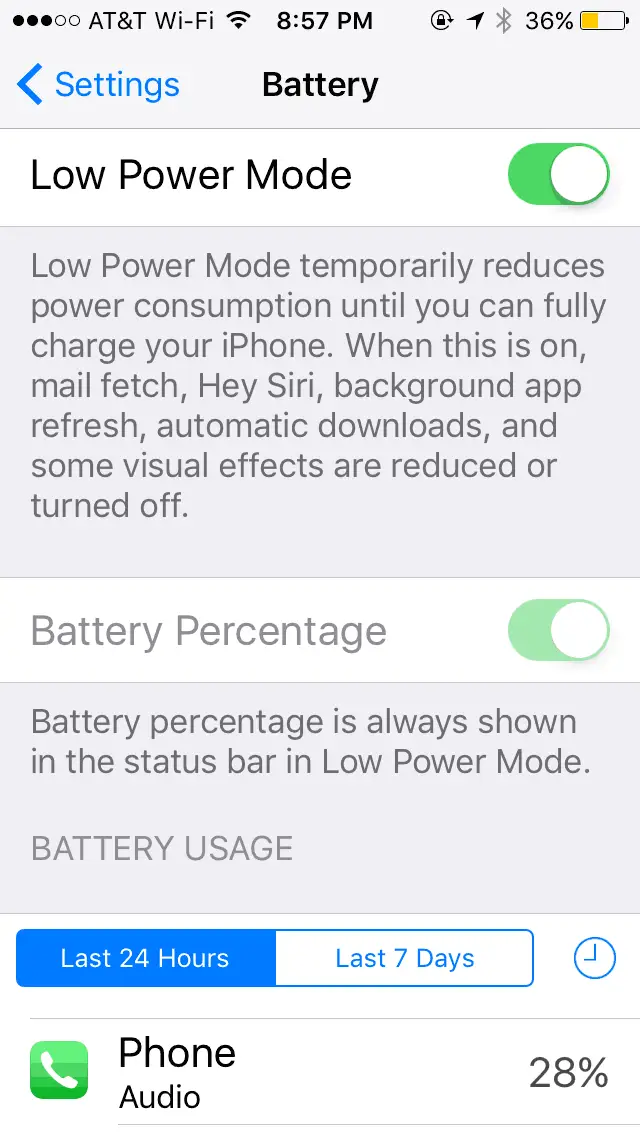 Background App Refresh
Turn off Background App Refresh in Settings > General which allows apps to refresh their content via Wi-Fi or Cellular (if enabled). You can also choose which apps are able to refresh content individually. This option is automatically disabled when Low Power Mode is turned on.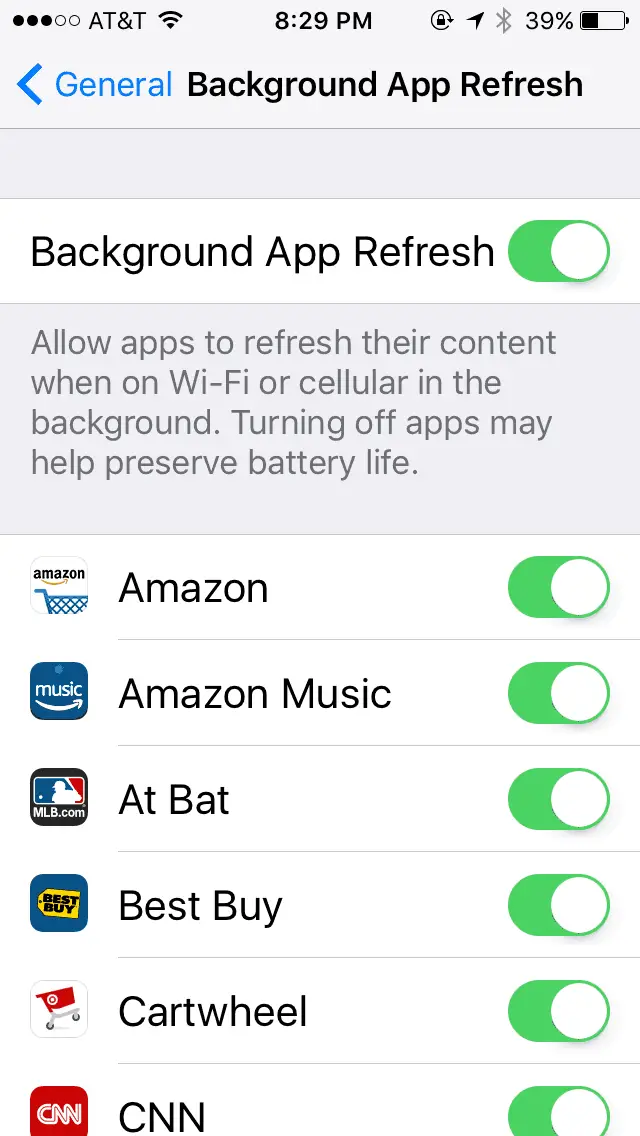 Turn Down Brightness
Go to Settings > Display & Brightness to turn down the brightness level of your screen. This can be done especially at night or in low lighting since the screen brightness does not have to be at its highest level. You can also make sure Auto brightness is turned on, which Apple designed to reduce battery consumption by lowering the screen brightness in darker environments.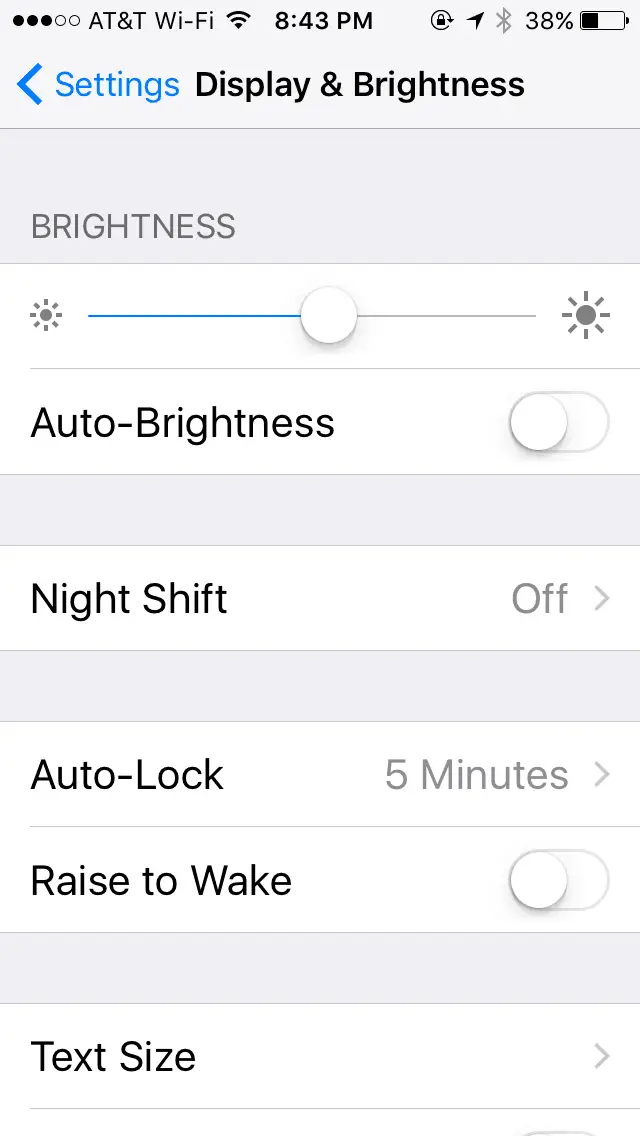 Turn off Bluetooth and AirDrop
Both Bluetooth and AirDrop are constantly searching for devices to connect to. Turn off Bluetooth in Settings > Bluetooth or turn off both from the quick Control Center by swiping up from the bottom of the display. AirDrop should say "Receiving Off" to be disabled from receiving files from anyone.
Turn Off/Adjust Notification Center
You can't turn off all notifications at once, and many of the Apple notifications we suggest leaving on. But to adjust individually go to Settings > Notifications and scroll through all your apps to turn on/off.
Battery Usage
You can check which applications are using up the most battery by going to Settings > Battery > scroll down to "Battery Usage." Apps that tend to use the most battery are constantly interacting with a network and server, as well as utilizing Notifications. Facebook can be the most draining, as well as apps such as Google Maps, Offer Up, SnapChat and Safari.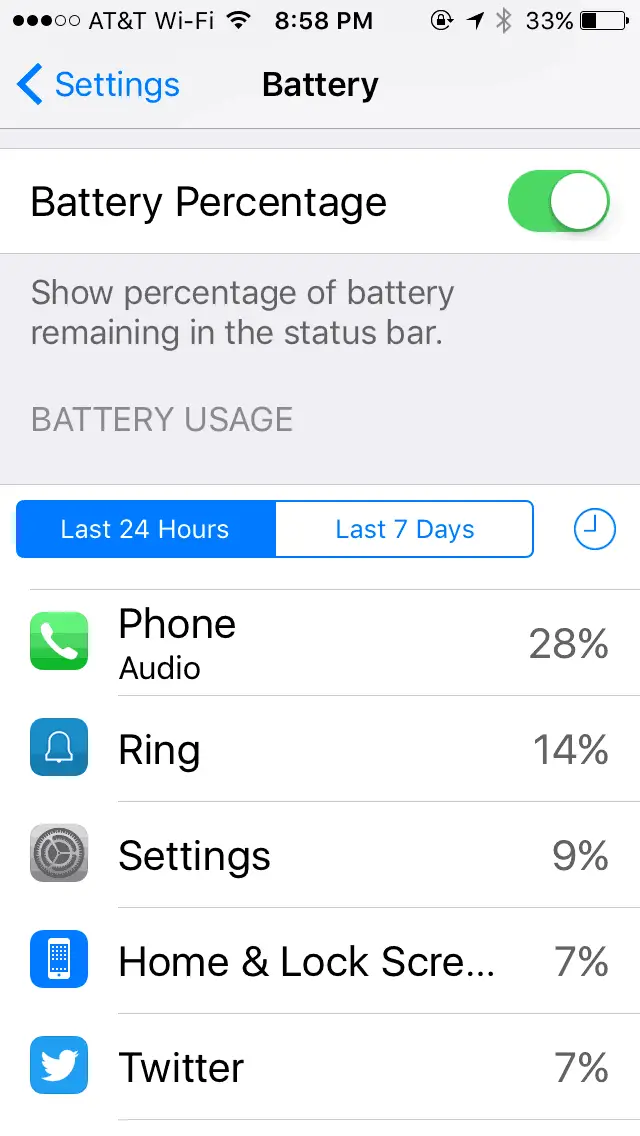 Disable Any Auto Downloads
Check your apps that may be set to auto download, like iCloud syncs, podcasts, iTunes music, etc. and turn them off. Downloading over cellular may drain your battery quicker than Wi-Fi, but both are using processing power. Of course, downloading over cellular can use up your data pretty quickly especially if downloading video content.
Turn on Auto-Lock
There is nothing more annoying than a phone that locks every 30 seconds, but if you're trying to conserve batter it's actually one of the best methods. Whenever the screen is turned on the battery is being used, and, the foreground app could be running something that uses battery. Turn it on in Settings > Display & Brightness and choose the best setting for you. "Never" is probably the worst setting you can have.
iOS Updates
Finally, battery percentage, or at least what your operating system thinks is left, has been problematic with several versions of Apple iOS. With some software versions the battery percentage drop tenths of percentages in no time, or, indicate the wrong amount of battery power. One way you can at least have some confidence Apple is addressing battery power issues is by updating the iOS. Of course, there are times when updating causes other problems. But that's a different story.
Of course, there are many other ways to improve battery life, but these are some of the top methods we have used. Any thoughts on what we've suggested? Let us know in the comments below.
Check out our other How To articles on HD Report.