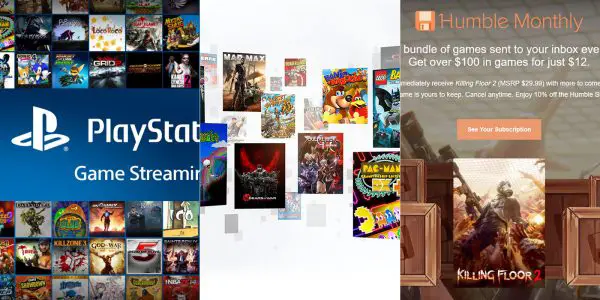 I recently spent a month with the three most popular game subscription services available. Are any of them worth it? Here are my thoughts:
PlayStation Now
What It Is
A $99 a year subscription service that allows you to access over 500 titles primarily made up of PS3 games.
Why It's Awesome 
You really don't have to dig too deep into PlayStation Now's library to see the value. Even average games become much more appealing when you can instantly access them as part of a bulk fee. Plus, the service's heavy hitters are some of the greatest games ever made.
However, PlayStation Now's best feature is that it's available for PC. The fact that PC gamers can access an entire generation's worth of Sony titles – as well as a growing selection of PS4 games – is something of a dream come true.
Why It's Not
In the beginning, the idea of unlimited access to PlayStation 3 titles was seen as a pretty good idea. The problem is that Sony has yet to commit to expanding the service's offerings by adding PlayStation 2 and PlayStation games to Now's library.
While it's nice that Sony is adding PS4 games to the service, the initial offering of PS4 titles is far from jaw dropping and there has been little indication that Sony is going to constantly add hit modern titles to the service.
The fact you stream games as opposed to downloading them also tends to result in performance issues.
Xbox Game Pass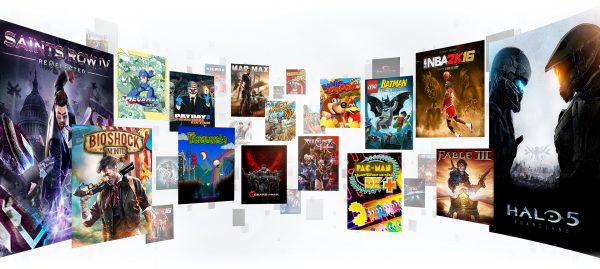 What It Is
A $9.99 a month subscription service that lets you download a rotating library of Xbox One and Xbox 360 games.
Why It's Awesome 
Game Pass's library is small – the service just started – but it already sports a variety of multi-generation titles that offer a substantial amount of play.
However, Game Pass' trump card is its overall value. $9.99 a month for the ability to download a rotating series of titles is just an incredible deal. Even if you only play one game a month, you're still arguably getting your money's worth.
Plus, downloading games as opposed to streaming them really helps prevent latency problems.
Why It's Not
If the quality of the first batch of game additions is any indication, Xbox Game Pass might suffer from slow growth. Microsoft is going to have to hustle to load the service's library with worthwhile games.
Even if they manage to do so, you do have to worry about how severe the service's library rotations are going to be. If too many big name titles rotate out every six months or so, it's going to be hard to justify a full year's subscription.
Humble Bundle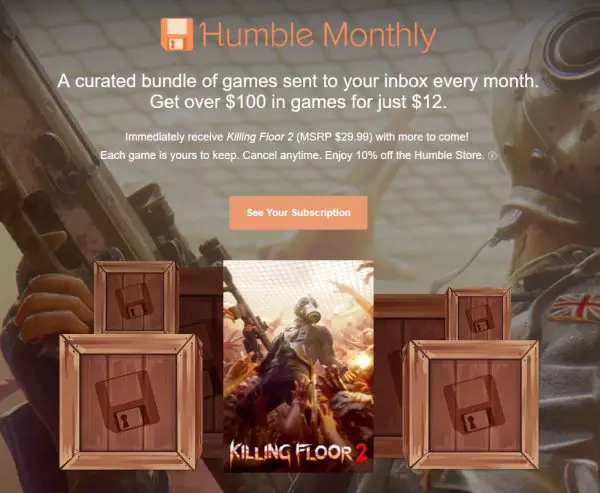 What It Is
A $12 a month service that gives you a random assortment of PC games.
Why It's Awesome 
Because it turns every month into Christmas morning. Humble has started showcasing a big name game or two ahead of time, but most of the titles aren't revealed until the bundle arrives. This leaves little room for prejudice as it encourages you to try new types of games.
Plus, Humble has been remarkably consistent in terms of quality. Nearly every bundle includes 2-3 must-have titles. Besides, once you've received your bundle, you own the included games forever.
Why It's Not
Well…sometimes, you get a dud of a bundle. The Humble Bundle encourages exploration, but there's no denying that some months yield more exciting titles than others.
Conclusion
There's no perfect gaming subscription service available, but Humble Bundle is the surprising winner of this test. It's relatively cheap, offers a variety of games that you get to keep, and it usually makes up for its low quantity with quality.
PlayStation Now and Xbox Game Pass both suffer from prices that don't justify their library. You're required to commit to them, but it's still not clear how committed Sony and Microsoft really are to growing these services. Plus, not being able to permanently keep your games is a real downside.
Final Ranking
Humble Bundle
Xbox Game Pass
PlayStation Now