Who says you need cable TV or a premium network like HBO to watch quality flicks? If you don't mind some commercial interruptions, Vudu has a bunch of new films for July that can be streamed free of charge. And, the titles are available to stream in up to 1080p resolution!
Vudu's list of new movies for July comes close to 90 titles, and while a good number of them are movies you may never have heard of, there are some great films, even Oscar-winning titles, that we'll highlight here.
Oscar-winning film Dead Man Walking (1995) starring Susan Sarandon and Sean Penn follows the last days of prisoner Matthew Poncelet (played by Penn) who is on death row. Sarandon won Best Actress in a Leading Role for the film, and Director Tim Robbins and Penn were also nominated for an Academy Award.
Want something lighter to watch? Renée Zellweger and Harry Connick Jr star in the romantic comedy New in Town (2009). Or, watch Kenneth Branagh's translation of the Shakespeare play Much Ado About Nothing (1993) starring Kenneth Branagh, Emma Thompson, and Denzel Washington.
Lions Gate's Secretary (2002) stars James Spader and Maggie Gyllenhaal in a twisted tale of sexual submission that was nominated for one Golden Globe (Best Performance by an Actress in a Motion Picture – Maggie Gyllenhaal), and can now be watched free on Vudu.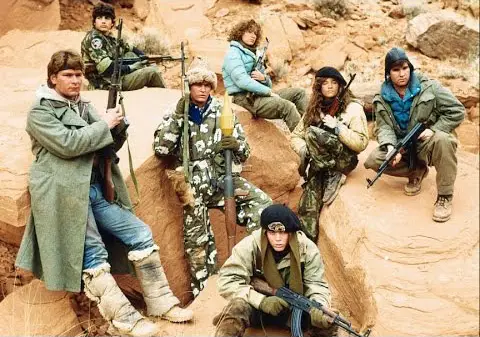 The original Red Dawn (1984) starring Patrick Swayze, Charlie Sheen, and Jennifer Grey can be streamed on Vudu with some commercial interruptions. The film takes place in a fictional World War III setting in which forces from the Soviet Union are invading the United States.
And, the 3-time Oscar-winning film Fiddler on the Roof (1971) is available from Vudu to stream in up to 1080p (Full HD) resolution. The film, directed by Norman Jewison (Producer: Moonstruck, The Hurricane), won awards for Best Cinematography, Best Sound, and Best Music, Scoring Adaptation and Original Song Score.
Other notable movies available to stream at no charge include the dramas Belly (1998) and Peter Jackson's The Lovely Bones (2009), horror films Hostel (2006) and Poltergeist 2 & 3 (1986, 1988), comedies Shadows and Fog (1991) and The Bad News Bears (1976), and documentaries Step Into Liquid (2003) and Bowling for Columbine (2002).
There are plenty more that could have been mentioned, but for lack of space check out the full list of "Movies on Us" for July at Vudu.