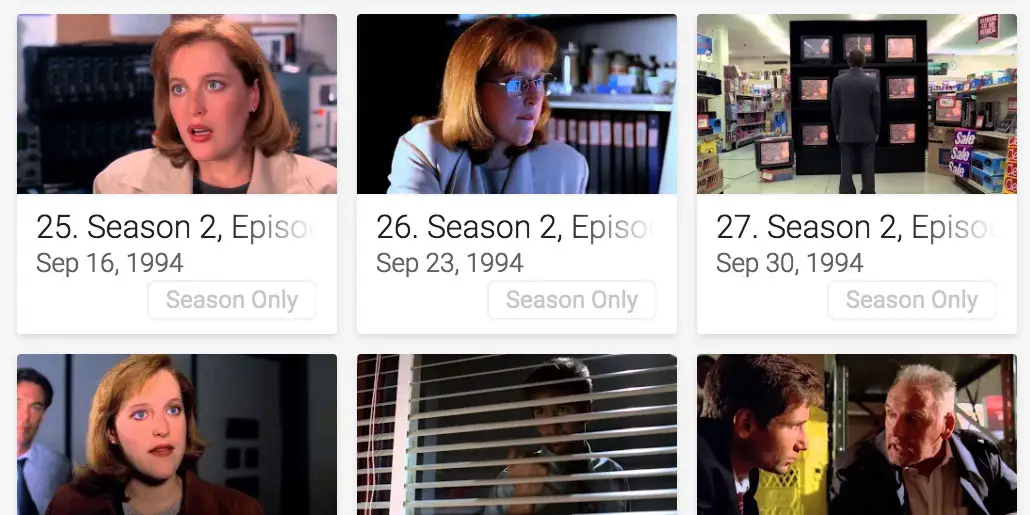 On Google Play you can get up to 50% off selected digital TV show bundles. The sale is part of a number of deals Google has going on for Memorial Day.
At 50% off is The X-Files series for $49.99 (Reg. $99.99). The purchase includes the original nine seasons starting from 1993 through 2002, and the new Season 10 episodes. The digital movies are provided in HD quality.
The other 50% off deal is on White Collar: Season 0 offered for $29.99 in HD (Reg. $59.99).
Avatar: The Last Airbender: The Complete Series has been discounted to $34.99 (Reg. $49.99) but is in SD quality only. Fringe: The Complete Series is selling for $59.99 (Reg. $79.99). American Horror Story Seasons 1 – 5 is on sale for $59.99 (Reg. $89.99). And, The Sopranos: The Complete Series can be purchased for a limited time for $94.99 (Reg. $124.99).
Google Play is also selling a number of digital titles for under $8 including King Kong (2005) for $6.99 (HD), Raising Arizona for $7.99 (HD), and Crank 2: High Voltage for $7.99 (HD).
Selected movie bundles are on sale for Memorial Day such as Underworld Ultimate Collection for $37.99 (Reg. $64.99), The Lord Of The Rings Trilogy for $19.99 (Reg. $38.99), and Sherlock Holmes 2 Film Collection for $9.99 (Reg. $19.99).
Hop over to Google Play to see more deals on bundles.