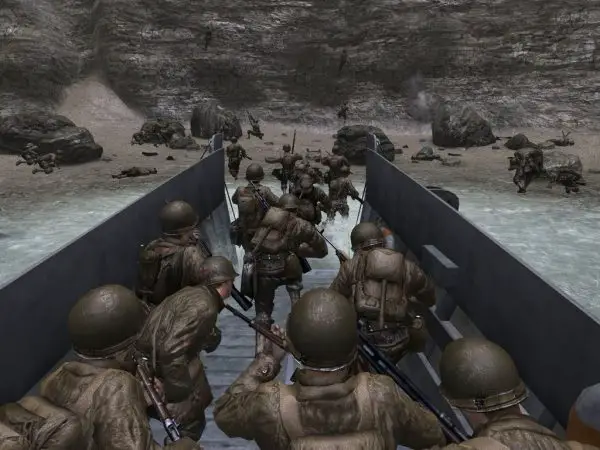 Following weeks of rumors and speculation, Activision has confirmed that they are taking the Call of Duty franchise back to World War II. This will be the first time we've gotten a Call of Duty game set in World War II since 2008's World of War.
Of course, Call of Duty made a name for itself as a WW II shooter. Back when EA's Medal of Honor was the premiere name in World War II shooters, developer Infinity Ward released the very first Call of Duty title to a cautious audience. Could this game possibly be better than Medal of Honor?
It was. Call of Duty quickly established itself as one of the most intense and cinematic game experiences on the market. Eventually, a larger audience became aware of the series' quality when 2007's Call of Duty: Modern Warfare turned the series into a billion dollar property.
At the time of Modern Warfare's release, gamers praised the title for ditching the tired WW II battlefield in favor of a modern setting. The market was flooded with WW II shooters both good and bad, but there were very few worthwhile shooters that addressed modern combat. Given the game's success, many assumed the game's modern setting would become a series staple.
So what changed? Everything.
Call of Duty is still a ridiculously successful franchise, but recent Call of Duty titles have struggled to achieve the same level of success as the first couple of Modern Warfare installments. Sure, Call of Duty: Infinite Warfare was the best selling game of 2016, but if you're Activision, you're not looking at how many copies the game sold; you're looking at how many it didn't sell compared to previous games.
You're also looking at EA's Battlefront 1 which was right behind Infinite Warfare in sales figures. While Battlefront and Call of Duty are very different games, their names carry the same amount of weight in the minds of many consumers. Typically, Call of Duty edges out Battlefield, but Battlefield 1's return to old-school warfare – World War I – seemed to have helped the game overachieve a bit on the market.
So is Activision just trying to capitalize on people's nostalgia and a potential new trend, or do they have something special in mind for this next game?
You want to believe it's the latter, but it's almost a guarantee the latter is true. When Activision realized that the Modern Warfare angle wasn't cutting it anymore, they released titles like Call of Duty: Advanced Warfare and Call of Duty: Infinite Warfare which changed the game's setting slightly. Unfortunately, they also kept many of the same qualities that the people who abandoned the franchise had grown tired of.
There are two ways to look at this move, then. Either Activision is ready to change some of Call of Duty's lingering issues and they're using the WW II angle as a hook to bring people back, or they're worried about suffering a potential market defeat to something like Star Wars: Battlefront II so they're playing the "remember when" card to get people talking.
Time will tell which is which. At the moment, though, people who had long ago given up on Call of Duty sure do seem to be talking about it again.