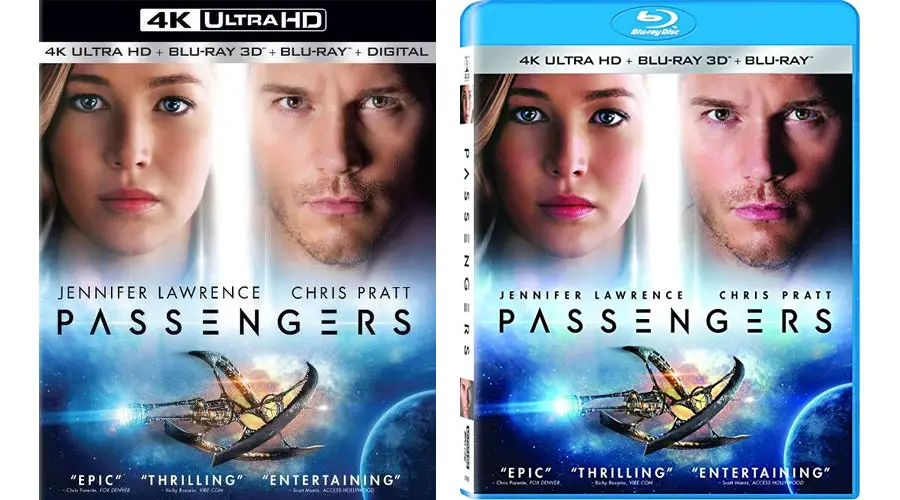 Sony Pictures Home Entertainment has released the epic sci-fi romance Passengers to several disc formats today including Blu-ray, Ultra HD Blu-ray, Blu-ray 3D, and DVD. It's the only 4k Blu-ray release today that we're aware of, and bargain-priced for what you get with the format.
The 3-disc combo edition from Sony packs Ultra HD Blu-ray, Blu-ray 3D, and standard Blu-ray disc copies of the film, as well as a Digital HD copy all for $25.99 (the current price on Amazon). Unfortunately for those who enjoyed 2-disc Blu-ray combos that come with a DVD, that package is not available with this title.
Best Buy has an exclusive Passengers Steelbook edition with all three versions of the film priced at $26.99, and, Target has an exclusive 2-disc Blu-ray edition (no 4k or 3D) with a behind the scenes bonus "A Journey To the Stars: The Making of Passengers" on the second disc selling for $19.99.
Passengers on Ultra HD Blu-ray is formatted in 2160p with HDR at 2.39:1 widescreen aspect ratio. The audio features a high quality immersive Dolby Atmos soundtrack that's backwards compatible with Dolby TrueHD 7.1 for systems that don't support Atmos.
Bonus features on the Blu-ray editions include the featurettes "Space On Screen" and "On the Set with Chris Pratt," deleted scenes, and a first look at the "Passengers Awakening VR" experience.
Passengers stars Jennifer Lawrence, Chris Pratt with a supporting role played by Michael Sheen. The film was nominated for two Oscars including Best Achievement in Music Written for Motion Pictures, Original Score (Thomas Newman) and Best Achievement in Production Design (Guy Hendrix Dyas,Gene Serdena).