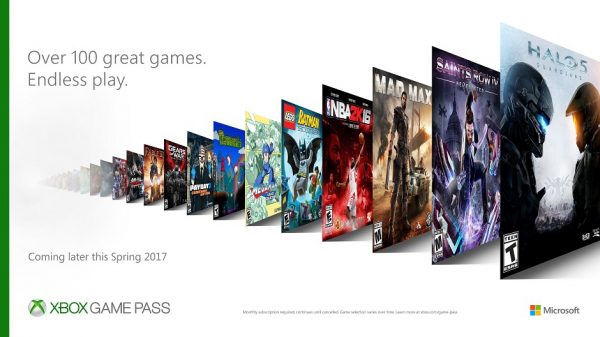 When it comes to technological advances, being first doesn't always mean that much. Look at the Oculus Rift. That device's Kickstarter campaign basically reinvigorated the entire idea of virtual reality gaming and created a template for how the concept can work in the modern age. Now, it's losing the sales race to the HTC Vive and PlayStation VR.
Typically, it usually takes three or four attempts at a particular idea for someone to finally get it right. Most of the time, that's because they're able to learn from what their competitors did right and what they did wrong.
At the moment, that's exactly what Microsoft is doing with their software subscription service, Xbox Game Pass.
A few video game companies have already attempted to establish their own software subscription service. Sony's PlayStation Now allows you to stream hundreds of PlayStation 3 games for a monthly fee. EA's Access program allows you to have unlimited access to a host of EA titles for a membership cost. Humble Bundle sends you random PC games every month for $12 a month.
All of these services have their flaws, though. PlayStation Now is pretty pricey and really depends on the name value of a few classic titles. EA Access is cheaper but doesn't offer nearly enough games. Humble Monthly is priced fairly and lets you keep your games, but the selection is very hit and miss.
Even though it was just announced today, Xbox Game Pass seems to address some of the issues that plague its competitors. At $9.99 a month, it's half the price of PlayStation Now and offers a far greater variety of titles than EA Access. You also get to choose which games you play, unlike Humble Monthly.
Best of all, Game Pass isn't really a streaming service at all. Instead, you actually get to download the games you want to play. This means that things like connection spikes and network issues won't threaten your experience.
In fact, even though Game Pass isn't  even a day old yet, it's already looking like one of the most compelling reasons to own an Xbox.
Is it too soon to say such things? Maybe, but sometimes you just know a great idea when you see one. In this case, the immediate appeal of Game Pass is based on how clearly it addresses the problems which have kept the promising idea of subscription services from reaching their full potential.
While it's too early to speak to the overall quality of the games that will be featured in Game Pass – its selection rotates month to month – the fact that its price is right and it isn't hindered by online streaming issues already makes it the subscription service that gamers have been dreaming of.
More and more corners of the entertainment industry are learning that subscription services are the way of the future. The same is true for gaming. So long at Microsoft has the best subscription service available, they have an ace in the hole that could become a console seller.