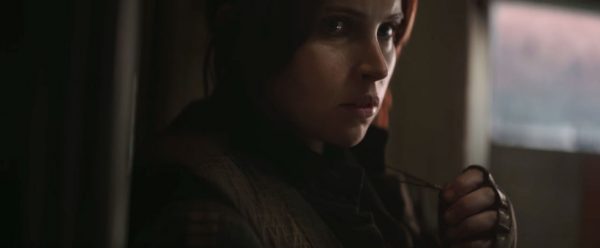 Now trending on YouTube, Disney/LucasFilm have uploaded yet another new trailer for Rogue One: A Star Wars Story titled "Trust." In the video, a young Jyn Erso is told to "Trust the force" by a woman who appears to be her mother.
There's also plenty of action footage and digital effects revealed in the one minute, thirty second trailer that's available to stream in up to 1080p (Full HD) resolution. We also get to see more of the droid K-2SO (played by Alan Tudyk) who seems to be Erso's C-3PO in the Star Wars spinoff.
Rogue One: A Star Wars Story was directed by Gareth Edwards and stars Ben Mendelsohn, Felicity Jones, Mads Mikkelsen, Riz Ahmed, Forest Whitaker, and James Earl Jones.
The film will open to theaters in the US, including RealD 3D and IMAX 3D cinemas, on December 16, 2016. On Monday, fans in North America will get their first chance to buy tickets for opening weekend — projected to draw $130 million.