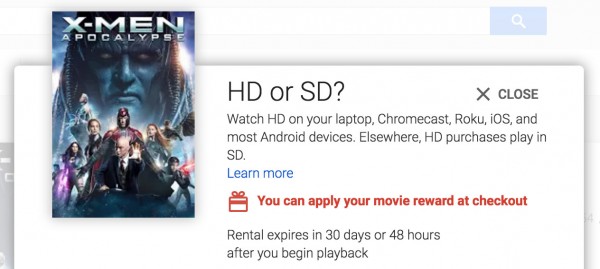 Google really wants you to use their online Google Play movie service. After recently offering Underworld Digital HD for just .99 cents, and occasional other promotions including discounts on rentals and free feature films like Transformers, the service is knocking 50% off the price of one movie.
That means you can get half off any film from the Google Play collection even on new releases such as X-Men: Apocalypse, Ghostbusters, and Central Intelligence. The 50% discount is applied at checkout, and, the offer must be redeemed by January 22, 2017 through Google Play.
Of course, you'll need a compatible Internet-connected device such as a desktop of laptop PC or Mac, tablet, or mobile phone, and a verified Google account. And, be sure to purchase the HD version of the film for the best picture quality. HD will be available whenever internet bandwidth is sufficient.
Jump over to Google Play to check out the selection and get 50% off one movie title.