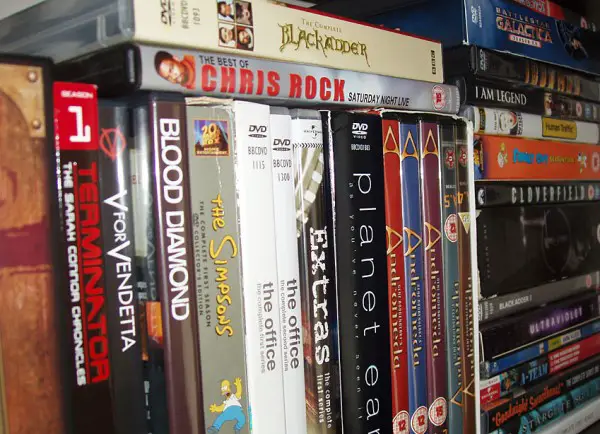 One might wonder if there will ever be a day when DVDs just go away, relinquishing home media options to Blu-ray and digital only. When Sony first launched Blu-ray in 2006 there was much talk about the end of DVDs (not much about digital back then), given the obvious superior quality of BD over DVD.
But 10 years later we still find DVD alive and well. According to Statista over 5 million DVD players/recorders will be shipped in the United States during Q4 '16 alone, and close to 15 million units total in 2017. What will consumers do with those players? Play DVDs, record to DVDs, play CDs?
Most 2-disc Blu-ray combo releases still include a DVD copy along with Blu-ray and Digital HD, providing access to films in three different formats. While most home theater enthusiasts who own Blu-ray players (and now Ultra HD Blu-ray players) may never take a DVD out of the case, here are several reasons why we think DVDs still matter.
Portable DVD Players
You can still easily buy portable DVD players in stores, while compact Blu-ray players are relatively hard to find. Portable DVD players are inexpensive (starting at about $50), rarely have technical problems, and can be taken anywhere or installed in small spaces. The only thing to remember is not all DVD players have HDMI output and will need to connect to TVs via composite RCA or S-Video.
DVD Drives On PCs
Does your laptop or desktop have a Blu-ray Disc drive? If it does you're one of the few. Most PCs and laptops, if they have any disc drive at all, come with DVD players by default (of course, you can always custom-install a BD drive). While you can't compare the quality of a DVD to that of Blu-ray, movies at 480p on smaller computer screens are not so bad. But, play 480p content on a large high-definition or Retina screen, or 4k display and you'll find the quality lacking.
DVD Players In Cars
There aren't many vehicles out there with Blu-ray players built-in to the audio/video system. If you do have one, consider yourself lucky. Most cars and SUVS with theater systems have standard-definition DVD players, and although many of us have installed tablets in our vehicles (either permanently or through seat-back mounts), the DVD player is always a good fall back.
DVD Recorders (DVD-R)
DVDs are still a good way to backup files like home movies, photo archives, and music. While a standard DVD only holds about 4.5GB of data (much smaller than typical Flash drives), DVDs are easy to store, label, and are much less expensive per disc than Flash drives.
Backups?
This might be grasping for straws, but does anyone feel a sense of security having a second disc backup in case the primary Blu-ray disc gets lost or scratched? We've done some testing of upscaling Blu-ray players on 4k TVs. While there is no comparison to BD or UHD BD, especially up close, some TVs do a great job of translating poor-quality content to higher resolutions. But you might pull your chair back a couple feet!
Are you still using DVDs? Let us know in the comments!