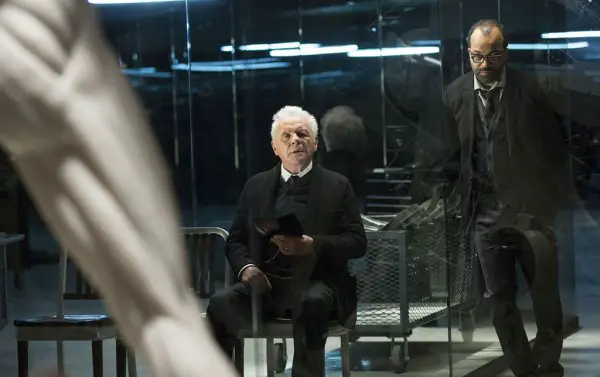 HBO has uploaded a "mature" trailer for their upcoming original series "Westworld" based on the 1973 science fiction film that was written and directed by novelist Michael Crichton.
"Westworld" spared no expense on its cast that includes stars such as Anthony Hopkins, Ed Harris, Evan Rachel Wood, Thandie Newton, and Jeffrey Wright among many others.
The writing credits are also formidable, with Michael Crichton, Jonathan Nolan, and Lisa Joy Nolan all contributing to ten episodes.
The series, premiering on Sunday, October 2nd, has been called a "dark odyssey about the dawn of artificial consciousness and the future of sin."
There isn't really anything "mature" about this trailer that we could find. There are a few frames of two women kissing in bed (no nudity) but other than that it seems like it could have been rated PG-14. However, the series itself may be Rated MA for mature audiences (although not officially rated yet on IMDB or HBO).
One YouTube commenter called the trailer "Fallout 4 meets Wild West meets Matrix meets Eyes Wide Shut." That may be a good assessment of the trailer but until the actual series airs it will be difficult to say which genre it leans to: drama, sci-fi, comedy (probably not), action, or a combination of two or more.
Check out the trailer below and let us know what you think in the comments. If you don't already subscribe to HBO, the network is offering a free one-month trial of HBO Now, their over-the-top internet-delivered service that costs $14.99 per month and doesn't require a TV service provider like Comcast or DirecTV.