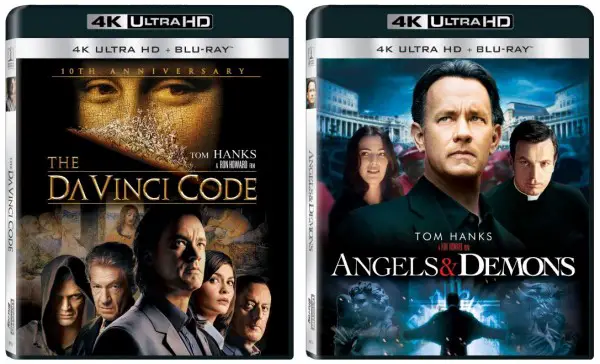 Ron Howard's The Da Vinci Code was released to theaters 10 years ago, and to celebrate the anniversary Sony Pictures will release both The Da Vinci Code and the sequel Angels & Demons to 4k Ultra HD Blu-ray on October 11th. The remastered 4k releases also coincide with the theatrical release of Inferno, the next title in the franchise that will star Tom Hanks with Felicity Jones.
The films, based on Dan Brown's novels of the same name, center on religious symbology expert Robert Langdon who solves ancient mysteries held by underground societies such as the Illuminati.
Sony's release of The Da Vinci Code and Angels & Demons will feature audio in Dolby's advanced Atmos format that provides a more immersive listening experience. For components that don't support Atmos, the soundtrack will play in Dolby TrueHD 7.1 or lower 5.1 channel surround sound.
Video on both Ultra HD Blu-ray discs is encoded with HEVC / H.265 at 2160p resolution. Both 4k BD-66 discs will also include High Dynamic Range color improvements for supporting HDR TVs. We expect there to be a label indicating such on the slipcover of each edition.
The three-disc sets include Ultra HD Blu-ray and Blu-ray editions as well as Digital HD copies via UltraViolet. And, there is new bonus material from both editions included on a second Blu-ray disc, along with previously released extras such as deleted and extended scenes.
From what we understand, the remastered versions of each film will be the theatrical cut, not the extended versions.
The Da Vinci Code is currently selling for $24.99 on Amazon (a good price for UHD BD), while Angels & Demons is priced higher at $34.99.
The Da Vinci Code Blu-ray Extras
All-NEW: Launching a Legacy: Interviews with Tom Hanks, Ron Howard, Dan Brown and Brian Grazer about The Da Vinci Code
All-NEW: First Look at Inferno
Deleted / Extended / Alternate Scenes
Select-Scene Commentary with Ron Howard
17 Featurettes
Theatrical Trailers
Angels & Demons Blu-ray Extras
All-NEW: Legacy of Langdon: Interviews with Tom Hanks, Ron Howard, Dan Brown and Brian Grazer about Angels & Demons
All-NEW: First Look at Inferno
Deleted / Extended / Alternate Scenes
7 Featurettes
Theatrical Trailers