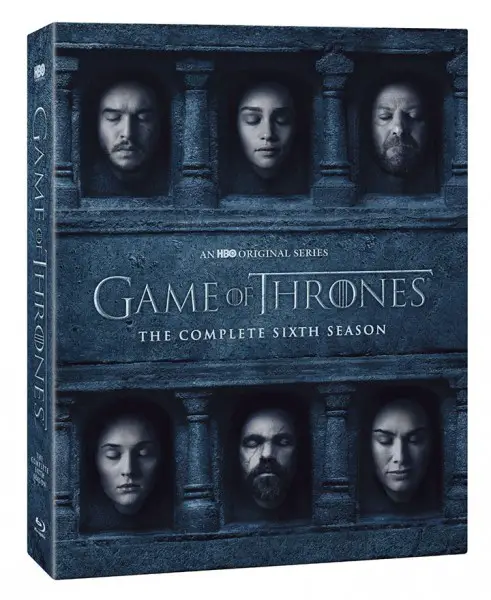 Game of Thrones: Season 6 was just released to Digital HD, but the disc formats will hit shelves on Tuesday, November 15th. HBO must have caught some of the holiday spirit, because the disc release date comes much earlier than previous seasons that fans had to wait until the following year to purchase.
Both Amazon and Best Buy have the common Blu-ray edition listed for $39.99, and Best Buy is also taking pre-orders on a special Steelbook edition (pictured below) for $49.99.
Season 6 in Digital HD is selling for $28.99 from most services, and includes bonus material depending on where purchased. Among the extra content from iTunes, Google Play, and Vudu are several installments of "The Game Revealed" for episodes 1 through 10.
But Game of Thrones: The Complete Sixth Season on Blu-ray includes more much than you can find with the digital purchase. Among the Blu-ray exclusives are the "In-Episode Guide" and "Histories and Lore" with 18 sections. And, other disc bonuses on both BD and DVD include audio commentaries, four deleted scenes, and several featurettes.
For those of you who didn't already purchase the season in Digital HD, the 4-disc Blu-ray edition from HBO Studios will include digital copies from UltraViolet, iTunes, and Google Play.
Here's a breakdown of all the extras included in the 5-disc Blu-ray Disc edition.
Blu-ray Exclusive Bonus Features:
In-Episode Guide – Dig deeper into the show with this in-feature resource that provides background information about on-screen characters, locations, and relevant histories.
Histories and Lore – Learn about the mythology of Westeros and Essos as told from the varying perspectives of the characters themselves in 18 history pieces.

The Old Way: narrated by Euron Greyjoy (Pilou Asbæk)
The Kingsmoot: narrated by Euron Greyjoy (Pilou Asbæk)
The Sunset Sea: narrated by Euron Greyjoy (Pilou Asbæk)
War of the Ninepenny Kings: narrated by Brother Ray (Ian McShane)
The Great Tourney at Harrenhal: narrated by Meera Reed (Ellie Kendrick)
Robert's Rebellion: narrated by Jaime Lannister (Nikolaj Coster-Waldau)
Vaes Dothrak: narrated by Jorah Mormont (Iain Glen)
The Dothraki: narrated by Jorah Mormont (Iain Glen)
Northern Allegiances to House Stark: narrated by Sansa Stark (Sophie Turner)
Children of the Forest vs. the First Men: narrated by the Three-Eyed Raven (Max von Sydow)
Brotherhood Without Banners: narrated by Thoros of Myr (Paul Kaye)
Oldtown: narrated by Grand Maester Pycelle (Julian Glover) and Qyburn (Anton Lesser)
House Dayne: narrated by Young Ned Stark (Robert Aramayo)
The Little Birds: narrated by Lord Varys (Conleth Hill)
Knights of the Vale: narrated by Petyr 'Littlefinger' Baelish (Aidan Gillen)
House Tarly: narrated by Randyll Tarly (James Faulkner)
Riverrun: narrated by Brynden 'the Blackfish' Tully (Clive Russell)
Great Sept of Baelor: narrated by the High Sparrow (Jonathan Pryce)
Additional Special Features:
The Battle of the Bastards: An In-Depth Look – Behind-the-scenes piece examining the production challenges of creating this epic event, including explorations of VFX, stunts, and interviews with key cast and crew.
Recreating the Dothraki World – Behind-the-scenes piece looking at the creation of Vaes Dothrak and its importance to Dany's evolution.
18 Hours at the Paint Hall –Follow all three shooting units as they converge in this behind-the-scenes snapshot of a day in the life of the largest show on television
Audio Commentaries – The most commentaries ever recorded for Game of Thrones, featuring:

Episode 601: Director Jeremy Podeswa, Director of Photography Greg Middleton, and Daniel Portman (Podrick Payne)
Episode 602: Writer Dave Hill, Michael McElhatton (Roose Bolton), Iwan Rheon (Ramsay Bolton), Liam Cunningham (Davos Seaworth), and Ben Crompton (Dolorous Edd)
Episode 603: Director Daniel Sackheim, Production Designer Deborah Riley, and Dean-Charles Chapman (Tommen Baratheon)
Episode 604: Nathalie Emmanuel (Missandei), Iain Glen (Jorah Mormont), and Jacob Anderson (Grey Worm)
Episode 605 (2 commentaries): Gemma Whelan (Yara Greyjoy), Pilou Asbæk (Euron Greyjoy), Ellie Kendrick (Meera Reed), and Kristian Nairn (Hodor); Prosthetics Supervisor Barrie Gower, Camera Operators Chris Plevin and Ben Wilson, and Executive Producer Bernadette Caulfield
Episode 606: Director Jack Bender, Director of Photography Jonathan Freeman, John Bradley (Samwell Tarly), and Hannah Murray (Gilly)
Episode 607: Producer/Writer Bryan Cogman, Ian McShane (Septon Ray), and Natalie Dormer (Margaery Tyrell)
Episode 608: Director Mark Mylod, Essie Davis (Lady Crane), and Nikolaj Coster-Waldau (Jaime Lannister)
Episode 609 (2 commentaries): Director Miguel Sapochnik, Sophie Turner (Sansa Stark), and Kit Harington (Jon Snow); Director of Photography Fabian Wagner, Visual Effects Producer Steve Kullback, and Visual Effects Supervisor Joe Bauer
Episode 610 (2 commentaries): Executive Producers/Writers David Benioff & D.B. Weiss, Lena Headey (Cersei Lannister), and Peter Dinklage (Tyrion Lannister); Special Effects Supervisor Sam Conway, Camera Operator Sean Savage, and Producer Chris Newman

Deleted Scenes – Four deleted scenes.