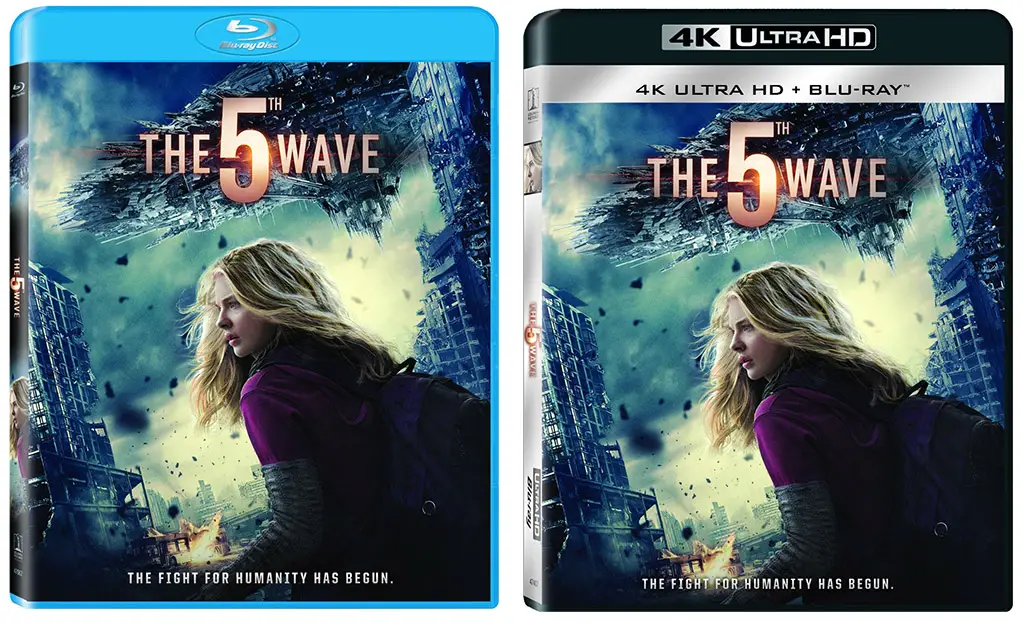 The 5th Wave from Sony Pictures will be released to Blu-ray Disc, On Demand and DVD on May 3rd, 2016, along with the day-and-date release of the film to 4k Ultra HD Blu-ray. The Ultra HD Blu-ray title adds to the short list of 4k movies on disc that are available in-store or to pre-order, of which Sony has about half-a-dozen movies on shelves.
The 5th Wave on Blu-ray is currently selling for as low as $24.99 (List: $34.99) and Ultra HD Blu-ray $45.99. There's no discount yet on the UHD BD, so it might be better to wait it out a bit before pre-ordering. (And it's not like there are players on the market yet anyway).
While the list of Ultra HD Blu-ray titles grows, most consumers are not yet able to play the discs. With only one model that's out of stock in most stores, retailers had expected more Samsung UBD-K8500 Ultra HD Blu-ray players to be available this month. The Samsung model is the only UHD BD player presently on the market in the US.
On Blu-ray Disc The 5th Wave is formatted in 1080p, but the Ultra HD Blu-ray Disc quadruples video definition with 2160p lines of resolution (twice the amount of horizontal and vertical lines on Blu-ray).
Audio is offered in either English Dolby Atmos or English Dolby TrueHD 7.1 for systems that support the new sound formats, or can down-sampled to whatever format is supported.
The 5th Wave comes with extra bonus content including the featurette "Inside the 5th Wave," gag reel, deleted scenes, and audio commentary. Read on for more details.
What's more, both Blu-ray combo editions also include a Digital HD copy to redeem with UltraViolet.
The 5th Wave Bonus Features:
Inside The 5th Wave
Sammy on the Set
The 5th Wave Survival Guide
Training Squad 53
Creating a New World
Cast Gag Reel
Deleted Scenes
Bonus sneak peek excerpt of The Last Star, by Rick Yancey
Audio Commentary with Director J Blakeson and Chloë Grace Moretz
Get more Ultra HD Blu-ray news in our dedicated channel.