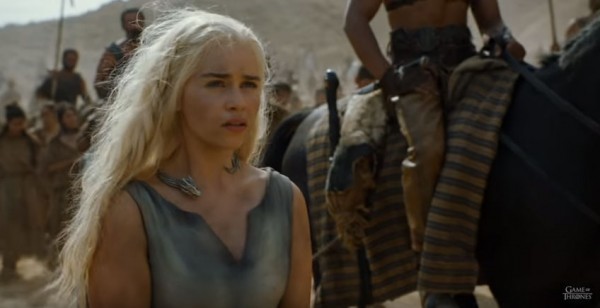 HBO has released a trailer for Game of Thrones: Season 6 that's labeled "Red Band," meaning, uncensored and not intended for all audiences.
The first full trailer launched on HBO's dedicated Game of Thrones YouTube channel anticipates the premiere of the new season on April 24th, 2016.
A few quick clips to look for in the trailer: Jon Snow's burial; Arya's troubles at the House of Black and White;  Cersei's choice to defy the Faith Militant; Gwendoline in battle once again;  Jorah Mormont searching for Daenerys; Melisandre's seduction of Yara Greyjoy (?); and plenty more.
Underscoring the first full Game of Thrones: Season 6 trailer is the song "Wicked Game" performed by James Vincent McMorrow.
The trailer broke previous HBO records by commanding over 30 million views in less than 24 hours.
Warning: The Game of Thrones: Season 6 'Red Band" trailer contains some mature content.