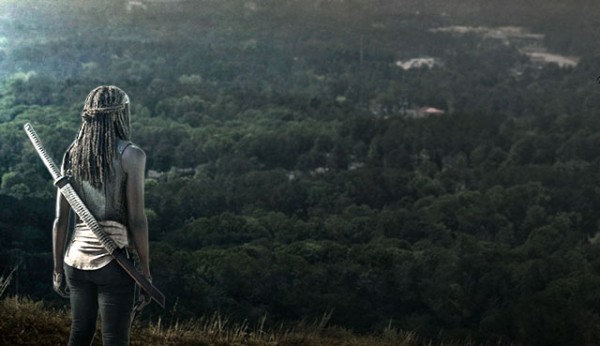 The mid-season premiere of the second half of The Walking Dead Season 6 airs tonight, Feb. 14 at 9 p.m. ET/PT, 8 p.m. Central on AMC. Skybound says fans should prepare themselves for a  "darker and grittier second half" of Season 6, and producer/writer Robert Kirkman promises not everyone will survives in the episode.
What can fans expect from part two of Season 6? Actress Danai Gurira who plays Michonne told Entertainment Weekly, "It's so full of many different things. It's a really full meal."
Gurira added that the upcoming episodes are "a time where [the group) have to make a decision about how this moment is going to differ from the moments before. And it's about the idea of, do you go back out and run, or do you find a way to take a stand?"
What about their safe place, Alexandria? Kirkman told EW, "Alexandria is kind of a gateway to this larger world, to rebuilding some semblance of civilization. And it changes the kind of stories that we're telling."
One person we may rule out as dying in Episode 9 is Morgan, who, Kirkman signifies, will be "finding his place" within the group.
According to Kirkman, "Morgan has a very solidified way of thinking that he truly believes in that is at times very much in conflict with almost everyone in Rick's group, and that's going to be a huge part of this back half of the season."
AMC is streaming the first 8 episodes of The Walking Dead Season 6, along with over 20 extras on amc.com. The first 4 minutes of the mid-season premiere are also available.
As well as traditional cable and satellite TV, AMC is also available on PCs at amc.com and on iOS, Android and Windows mobile devices using the the AMC app. Episodes can also be downloaded from amc.com, Google Play, iTunes, Xbox, Amazon, and Netflix.
Authentication with a TV service provider may be required for full access to The Walking Dead episodes.