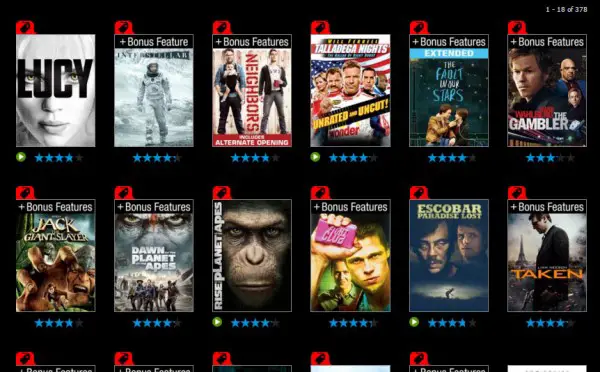 Vudu is having an end-of-year sale with a large selection of movies in Digital HDX from $4.99 to $9.99. HDX is Vudu's Full HD format with a resolution of 1920 by 1080 pixels, viewable on PCs, mobile devices, and HDTVs that support 1080p. And, HDX titles can be streamed or downloaded for viewing offline.
The sale makes it a great time to build up your digital movie collection with Vudu titles that are automatically linked to the cloud-based UltraViolet platform, allowing access to purchased titles from many devices and apps. And, many of the discounted Vudu titles include Bonus Material with the feature film.
Let's take a look at some highlights of the Vudu sale, although there are many more to choose from.
$4.99 HDX
Zoolander
The Fifth Element
Big Daddy
Black Hawk Down
The Patriot
$7.99 HDX
Lucy
Intersteller
Neighbors
Talladega Nights
The Fault in Our Stars 'Extended'
The Gambler
Rise of the Planet of the Apes
$9.99 HDX
Mission: Impossible – Rogue Nation
Trainwreck
Vacation
Pixels
American Sniper
Southpaw
Vudu 4k UHD
Although not included in the sale, Vudu has a selection of titles in 4k UHD format including Vacation, The Man from U.N.C.L.E., San Andreas, The Gallows, Mad Max , Magic Mike, Entourage, and Mad Max Fury Road. The UHD movies are $9.99 to rent, or $29.99 to buy. View an entire list of UHD movies on Vudu.