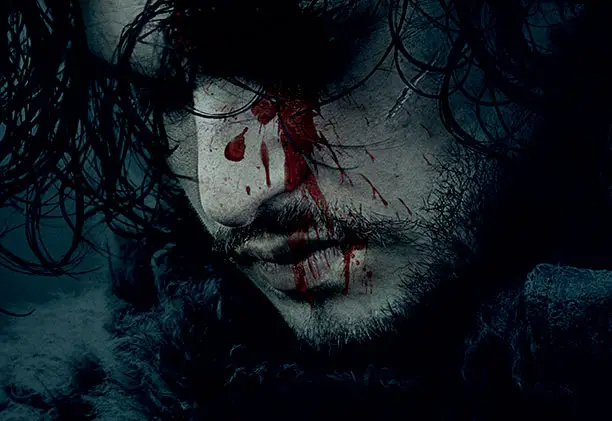 HBO has released the first piece of marketing for Game of Thrones Season 6, and it's bringing further speculation as to whether or not Jon Snow (played by Kit Harington) is truly dead. In the last season (Warning: Spoiler Alert), Jon Snow's life is ended at the Wall, but we also know from the battle at Hardhome that the White Walkers can regenerate the dead as wight soldiers.
Is it possible Jon Snow will return under the command of the White Walkers? Or, was he somehow miraculously saved after what looked like absolute death at the Wall? Maybe Snow will simply return as a spirit or voice from the dead as we've seen in other scenes from George R. R. Martin's novels.
Jon Snow, along with other hero and heroine characters such as Robb Stark (Richard Madden), his mother Catelyn Stark (Michelle Fairley) and father Ned Stark (Sean Bean), are among some of the most popular characters in the series that have been killed off.
As the bastard son of Ned and Catelyn Stark, Snow was for many viewers the hero that would withstand Martin's lethal pencil.  But as Game of Thrones fans have learned through the last five series, there is not one character who is untouchable — either by Martin or the show creators David Benioff and D.B. Weiss.
The sixth season of Game of Thrones (and what has been said will be the last), will premiere in April 2016.