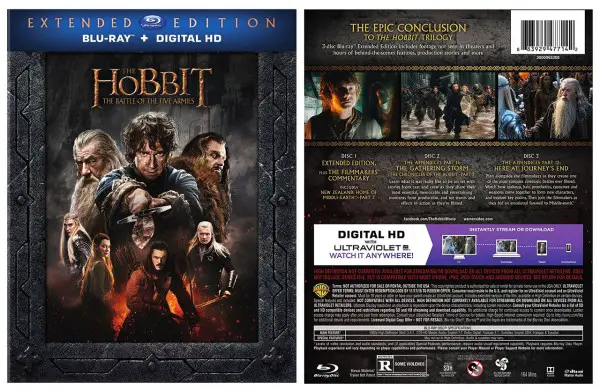 After a limited run in theaters last month, The Hobbit: The Battle of the Five Armies Extended Edition has arrived on Blu-ray Disc in 3-disc and 5-disc (3D) editions from Warner Home Video. The first Blu-ray disc includes 20 minutes of never-before-seen film footage, plus, "The Filmmakers' Commentary" and "New Zealand: Home of Middle-earth – Part 3."
The second Blu-ray disc is loaded with  "The Appendices Part 11: The Gathering Storm," with stories from the cast and crew about production of the film, and an inside look at the effects and actual stunts.
Finally, the third Blu-ray disc contains the closing bonus "The Appendices Part 12: Here At Journey's End" that takes viewers alongside the filmmakers and the complex cinematic battles, makeup, weapons, and costumes worn by new characters, as well as a farewell to Middle-earth.
The Hobbit: The Battle of the Five Armies Extended Edition on Blu-ray Disc is formatted in 1080p at 2.4:1 aspect ratio, with an English DTS-HD Master Audio 7.1 soundtrack. A redemption code for a Digital HD copy via UltraViolet is also included.
The 3-disc Blu-ray Extended Edition is list-priced at $34.99, while the 5-disc Blu-ray 3D edition is $54.99. And, Amazon has released an exclusive edition with Weta figurine for $54.99.
Warner Bros also released the 15-disc The Hobbit Trilogy (Extended Edition): 3 Movie Collection edition with all three extended movies and bonus material from the single film extended editions. The three movie collection carries an MSRP of $78.99.