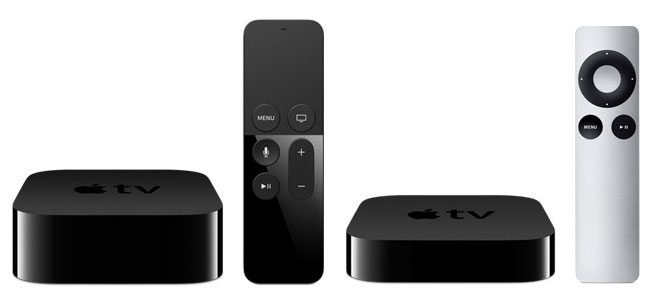 Apple will start shipping their 4-generation Apple TV this week, so we thought it would be constructive to do a spec comparison of the new player (since we haven't tested the new one yet), with that of the 3rd-gen player that Apple delayed in updating for over two years. We've also included a table below for quick reference to the differences between the two models.
Video
The first thing that comes to mind is video support. The new Apple TV supports H.264-coded video at 1080p and 60 frames-per-second. For the non-video expert, this means video will play much smoother than before with double the amount of frames displayed per second. And, the HDMI port has been upgraded to HDMI 1.4 (still not good enough for 4k though).
Audio
The 4th-generation Apple TV supports seven channel audio with Dolby Digital 7.1. That means movies encoded with Dolby Digital 7.1. will sound more immersive than Dolby Digital 5.1, as long as your audio system will support the extra channels. When purchasing movies from iTunes look for audio specifications to know what you are getting.
Voice Search
Amazon was first to integrate voice search into their Fire TV via the remote control's microphone, now Apple has followed suit with their Siri voice control remote — something the 3rd generation's simplistic remote control didn't have.
Quicker processor
The new Apple TV has a much faster processor than before, with Apple's dual-core A8 chip improvement from the single-core A5 chip in the 2013 model. While the A5 may have been enough two years ago, it was about time to upgrade the processing.
RAM Memory 
It's hard to believe Apple is still selling the 3rd-gen Apple TV with just 512MB of RAM, but nevertheless the new Apple TV will need much more temporary memory to handle all the apps and games the platform promises. With 2GB of RAM (the same as Fire TV), the new Apple TV has three-times the amount as its predecessor.
Storage
The new Apple TV is available in either 32GB or 64GB configurations, both a vast improvement over the 3rd-gen player with just 8GB of storage. Built to stream more than store, this is not really a knock on the 3rd-gen Apple TV but if you intend on playing games, downloading more apps, and storing movies and TV shows the added storage is critical.
Other improvements
In addition to the features mentioned above, the new Apple TV also adds the WiFi 802.11ac standard, support for gaming and third party controllers, and an app store.
Conclusion
This isn't an endorsement to purchase the new Apple TV. If you're streaming Netflix at home with no problem and that's all you need it for then why buy a new one? And, with 4k about to explode it may make sense to hold out until Apple, if ever, releases an Apple TV with HDMI 2.0.
Want to learn more? Read our article Why Buy the New Apple TV?
Apple TV 4rd-Gen vs. 4th-Gen Spec Comparison
| | | |
| --- | --- | --- |
| | Apple TV (3rd Gen 2013) | Apple TV (4th Gen 2015) |
| Voice Search "Siri" | No | Yes |
| Video | H.264 1080p (30fps) | H.264 1080p (60fps) |
| Audio | Dolby Digital 5.1 | Dolby Digital 7.1 |
| Processor | Single-core A5 chip | Dual-core A8 chip |
| Memory | 512MB | 2GB |
| Storage | 8GB | 32GB / 64GB |
| Ports | 4 (HDMI, Optical audio, 10/100BASE-T Ethernet, Micro-USB) | 3 (HDMI 1.4, 10/100BASE-T Ethernet, USB‑C) |
| HDMI | HDMI | HDMI 1.4 |
| Bluetooth Remote | No | Yes |
| Wi-Fi | 802.11a/b/g/n Wi-Fi | 802.11a/b/g/n/ac Wi-Fi |
| Third Party Controllers | No | Yes |
| Gaming Support | No | Yes |
| Price | $69 | $149 / $199 |
Usage: If you would like to use this chart please include credit and/or link back to HD Report.