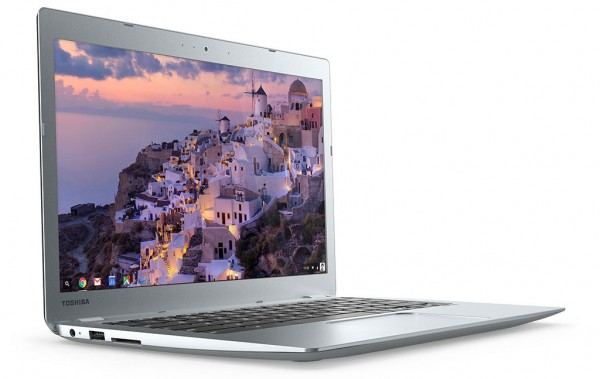 Toshiba's upgraded Chromebook 2 will be available starting in October, configured with either a 5th-generation Intel Core i3 or Celeron processor. The new laptop is said to load webpages much faster, provide more brilliant video, and easier multitasking capabilities.
What's also a nice added feature to the Chromebook 2 is a new LED backlit keyboard to make working in low-light environments much more practical.
The display on the Chromebook 2 is 13.3-inches (diagonal) with Full HD (1920 x 1080) resolution and IPS technology. The body of the Chromebook 2 measures 12-inches long, and weighs 2.9 pounds.
RAM on the new Chromebook 2 models will remain the same, with a max capacity of 4GB that's factory installed.
And, ports include one USB 3.0 port, one USB 2.0 port, HDMI output, SD Card slot, and a security lock slot. Wireless connectivity includes Wi-Fi 802.11ac.
How much will the Toshiba Chromebook 2 cost? The lower-priced model with Intel Celeron processor will carry an MSRP of $329.99, while the faster Intel Core i3 model will list for $429.99.
The models are slightly more expensive than Toshiba's current Chromebook 2 with Intel Celeron processor N2840 that sells for $299.