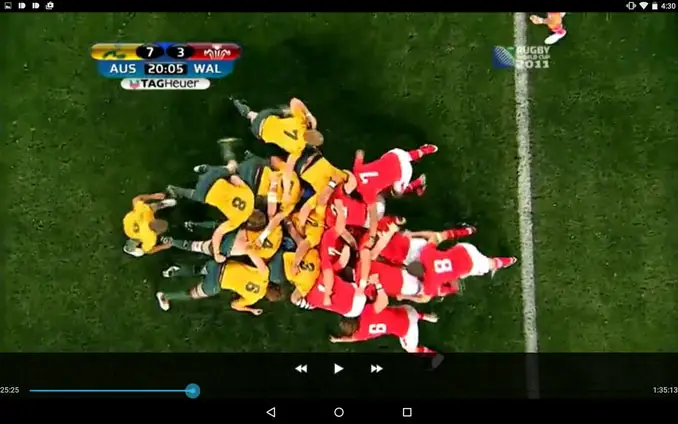 The 2015 Rugby World Cup is just getting started from England, with 20 teams competing from September 18th through October 31st. Those who want to stream all 48 matches can purchase the entire tournament package for $199.99, or individual matches starting at $27.95.
However, here in the US, nine matches of the tournament will be available for viewing between Universal Sports and NBC. If you have those channels, you should be able to watch the matches free. (See the nine matches schedule below.)
Note that the internet package is a separate service from the television broadcasts, so you won't be able to transfer your purchased matches to your TV service provider.
Here's where to watch or stream the 2015 Rugby World Cup.
On Television
The 2015 Rugby World Cup is being broadcast in the US by NBC's Universal Sports, or individual matches can be purchased pay-pay-view. NBC Universal is broadcast in 1080i, and can be found DirecTV (Ch. 625 SD), Dish (Ch. 402 SD), Verizon FiOS (Ch. 804 HD), and most cable TV providers. (Check your local listings.)
On PCs
All 48 matches of the 2015 Rugby World Cup can be streamed via the website RWC2015ppv.com. Take note this is a different website than the official rugbyworldcup.com site. To stream, make sure 3rd party cookies are enabled. Those who subscribe to Sling TV can also watch matches being broadcast on Universal Sports, available in the $5 add-on sports package.
On Mobile Devices
The 2015 Rugby World Cup can be streamed on tablets using the WatchRWC2015 app for Android and iOS. There are a few Rugby apps available, and a World Cup Rugby app that looks just like the official app but does not live stream games. Be sure to look for "WatchRWC2015".
On Streaming Media Players
The 2015 Rugby World Cup can be live-streamed on the Roku media player using the WatchRWC2015 app channel. The matches can be streamed live or on-demand to any connected TVs. They even have select games from the 2011 Rugby World Cup to stream on-demand.
US Broadcasts of the 2015 Rugby World Cup
Universal Sports 7 matches:
FRI, SEPT 18 -­ England v Fiji, 2:00 ET LIVE (includes Opening Ceremony)
SUN, SEPT 20 -­ Samoa v USA, 9:30 AM ET LIVE
SUN, SEPT 27 – Scotland v USA, 9:30 AM ET LIVE
WED, OCT 7 -­ South Africa v USA, 11:30 AM ­ 2 PM ET LIVE
SUN, OCT 11 – USA v Japan, 3:00 PM ET LIVE
SUN, OCT 25 – Semi Final #2, 11:00 AM ET LIVE
FRI, OCT 30 -­ Bronze Medal Match, 4:00 PM ET LIVE
NBC 2 matches:
SAT, OCT 24 – ­ Semi Final #1, 2:30 PM ET (same-day-delay on NBC; re-airs on USN 7-9:30 PM ET)
SAT, OCT 31 – ­ World Cup Final, 12-2:30 PM ET LIVE on NBC (re-airs on USN on 11/1 from 4-6:30 PM ET)