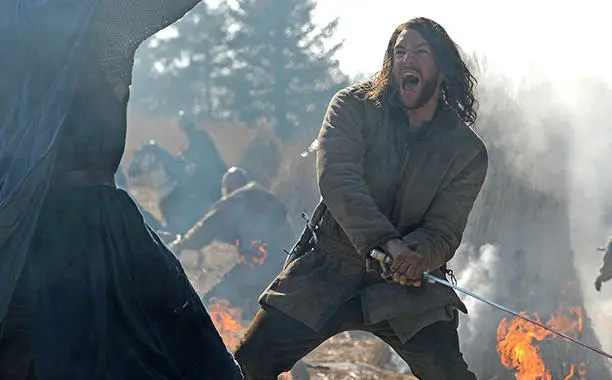 FX Networks will premiere their new series The Bastard Executioner tonight at 10 p.m. ET/PT. The show can best be described as a medieval epic (with plenty of blood and guts to spare) that follows the broken life of 14th century warrior Wilkin Brattle (played by Lee Jones) who takes on the identity of an executioner to fulfill a mysterious destiny.
Set in northern Wales, the series also stars Katey Sagal as the mystical healer Annora of the Alders, Stephen Moyer as the Baron's right-hand man Milus Corbett, and Darren Evans as the orphan Ash y Goedwig.
The Bastard Executioner was executive-produced by creator/writer/director Kurt Sutter, Brian Grazer, Francie Calfo, and director Paris Barclay.
The Hollywood Reporter calls the show "an intriguing and vast medieval epic that surprises and entertains on a number of fronts."
The FX Networks website has plenty of video clips to view (several are posted below), and the premiere episode of The Bastard Executioner will be available on multiple screens on FXNOW starting September 16. The first season will span a total of 10 episodes.