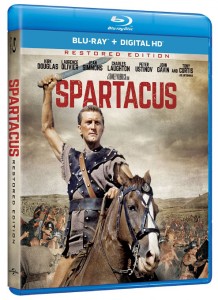 The 55th anniversary of the 1960 classic film Spartacus from director Stanley Kubrick will be celebrated with a new extensive restoration from the 1991 reconstructed version of the film, with a total run-time of the Blu-ray edition to be three hours and seventeen minutes.
Highlights of Spartacus: Restored Edition include an additional twelve minutes of footage (first released in the 1991 version), along with two new bonus features: "I Am Spartacus: A Conversation with Kirk Douglas," and "Restoring Spartacus: An inside look at the intricate process of the film's 2015 restoration." (Scroll down for more bonus material.)
What's more, Spartacus: Restored Edition will offer audio in 7-channel surround sound (English DTS-HD MASTER AUDIO 7.1) — a first for the film.
Universal Pictures Home Entertainment has scheduled the Blu-ray release of Spartacus: Restored Edition, that includes a redeemable Digital HD copy, for October 6, 2015.
Spartacus stars Kirk Douglas as Spartacus, Laurence Olivier as the Roman general and politician Marcus Licinius Crassus, and Peter Ustinov as as slave trader Lentulus Batiatus. The film won four Oscars, including "Best Actor in a Supporting Role," for Ustinov's performance.
Spartacus: Restored Edition Bonus Features
I Am Spartacus: A Conversation with

Kirk Douglas

: An interview with the 98-year-old screen legend. –New!
Restoring Spartacus: An inside look at the intricate process of the film's 2015 restoration. –New!
Deleted Scenes
Archival Interviews with Peter Ustinov &

Jean Simmons

Behind-the-Scenes Footage
5 Vintage Newsreels
5 Image Galleries (Production Stills / Concept Art / Costume Designs / Saul Bass Storyboards / Posters & Print Ads)
Theatrical Trailer