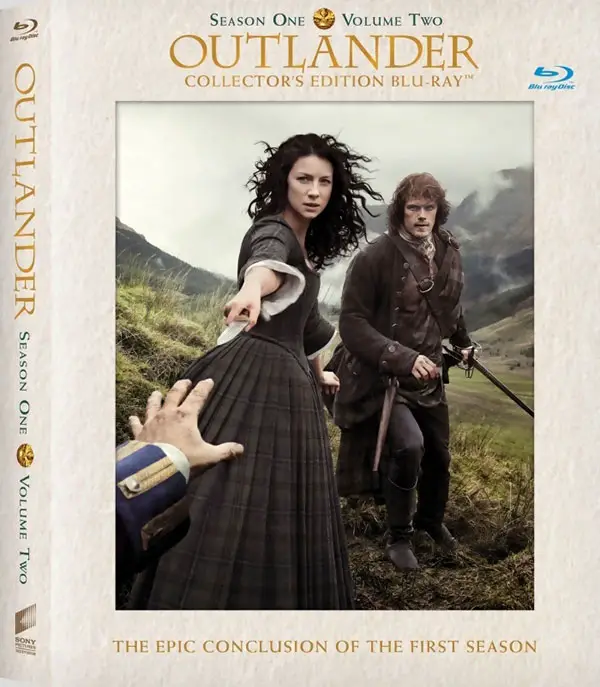 If you've been waiting patiently for Volume 2 of the first season of Starz's Outlander, Sony Pictures Home Entertainment has set the release date for September 29, 2015. The Blu-ray release will come in two versions: a standard Blu-ray edition and Limited Collector's Blu-ray Edition.
Along with all eight episodes (9-16), the 2-disc standard Blu-ray edition will include 15 deleted scenes, three new featurettes, extended Episode 9 "The  Reckoning," and Digital HD copies with UltraViolet. The standard edition will carry an MSRP of $45.99.
The 2-Disc Limited Edition will contain everything in the standard Blu-ray edition, but also a 32-page book with photographs and excerpts from the script, as well as exclusive collectible packaging with 3D art. The limited edition will have an MSRP of $55.99.
Outlander: Season 1 Volume 2 on Blu-ray is formatted in 1080p at 1.78:1 aspect ratio with a DTS-HD Master Audio 5.1 soundtrack.
Season Two of Outlander will premiere in 2016.
Outlander: Season 1 Volume 2 Blu-ray Edition Details:
Outlander: Season 1 Volume 2 Blu-ray
The Reckoning Extended Episode with Introduction by Ronald D. Moore (Blu-ray Exclusive)
15 Deleted Scenes with Introductions by Ronald D. Moore (Blu-ray Exclusive)
Three All-New Featurettes (Blu-ray Exclusive):

Diana Gabaldon Tours Outlander – Author Diana Gabaldon witnesses her words coming to life as she tours the sets of Outlander for the first time.
Outlander Cast & Crew Table Read – Join the cast and crew as they come together for table reads on episodes "The Way Out" & "The Gathering."
A Triangle in Time – Sam Heughan, Caitriona Balfe and Tobias Menzies discuss the passionate yet complicated love triangle between Jamie, Claire and Frank.
Outlander: Season 1 Volume 2 Limited Collector's Edition
Exclusive collectible packaging with 3D art
A 32-page book with photographs, excerpts from the script and an introduction from Ronald D. Moore
All the special features included on the Blu-ray noted above