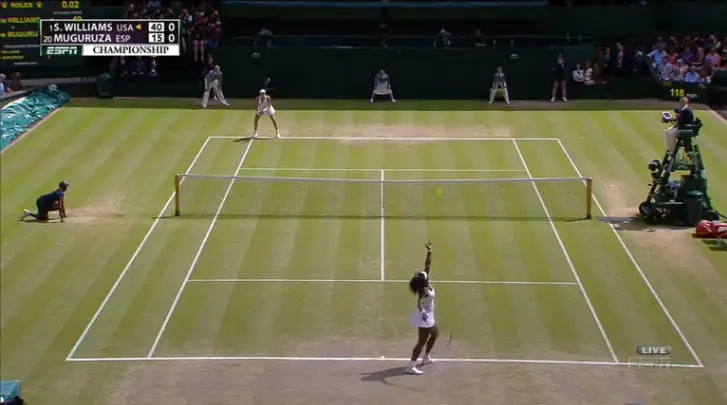 Want to steam the Wimbledon 2015 from London on your PC, smartphone, tablet, or media player? ESPN is broadcasting the women's final on Saturday, July 11th starting at 9:00 a.m. ET. If you're away from your big TV, here are ways to stream the women's championship match between Serena Williams and Garbine Muguruza, or the men's championship match between Novak Djokovic and Roger Federer.
Finals Schedule
Wimbledon 2015 Women's Final – July 11, 2015 – 9:00 a.m. ET – ESPN
No. 1 Serena Williams vs. No. 20 Garbine Muguruza
Wimbledon 2015 Gentlemen's Final – July 12, 2015 – 9:00 a.m. ET – ESPN
No. 1 Novak Djokovic vs. No. 2 Roger Federer
On PCs
You can stream the 2015 Wimbledon matches on PCs using any browser at ESPNGo. In order to stream ESPN, users first need to authenticate with the username and password associated with a TV service provider. ESPN online is supported by most TV providers.
On Smartphones & Tablets
The 2015 Wimbledon matches can be streamed using the WatchESPN app for Apple iOS and Google Android devices. Simply download the app, choose your TV service provider, and authenticate with the username and password associated with a TV provider. You'll be able to stream all available ESPN content, including live broadcasts, on mobile devices.
On Streaming Media Players
The WatchESPN app channel is available for most popular streaming media players including Apple TV, Amazon Fire TV, Roku, and Chromecast. First, download the WatchESPN channel. Then, authenticate using the code provided in the app through a web browser. Once confirmed, you'll be able to stream any available ESPN programming including live broadcasts.
In the women's final, Serena Williams goes for her 21st Grand Slam, while 21-year-old Garbine Muguruza makes her first appearance. Muguruza will have to have a perfect game to compete with the experienced Serena Williams.
In the men's final, Roger Federer upset  Andy Murray in an exciting match on Friday, to face the number one seed Novak Djokovic on Centre Court. Federer will attempt to win his 18th Grand Slam singles title.
Streams are subject to commercial interruptions.