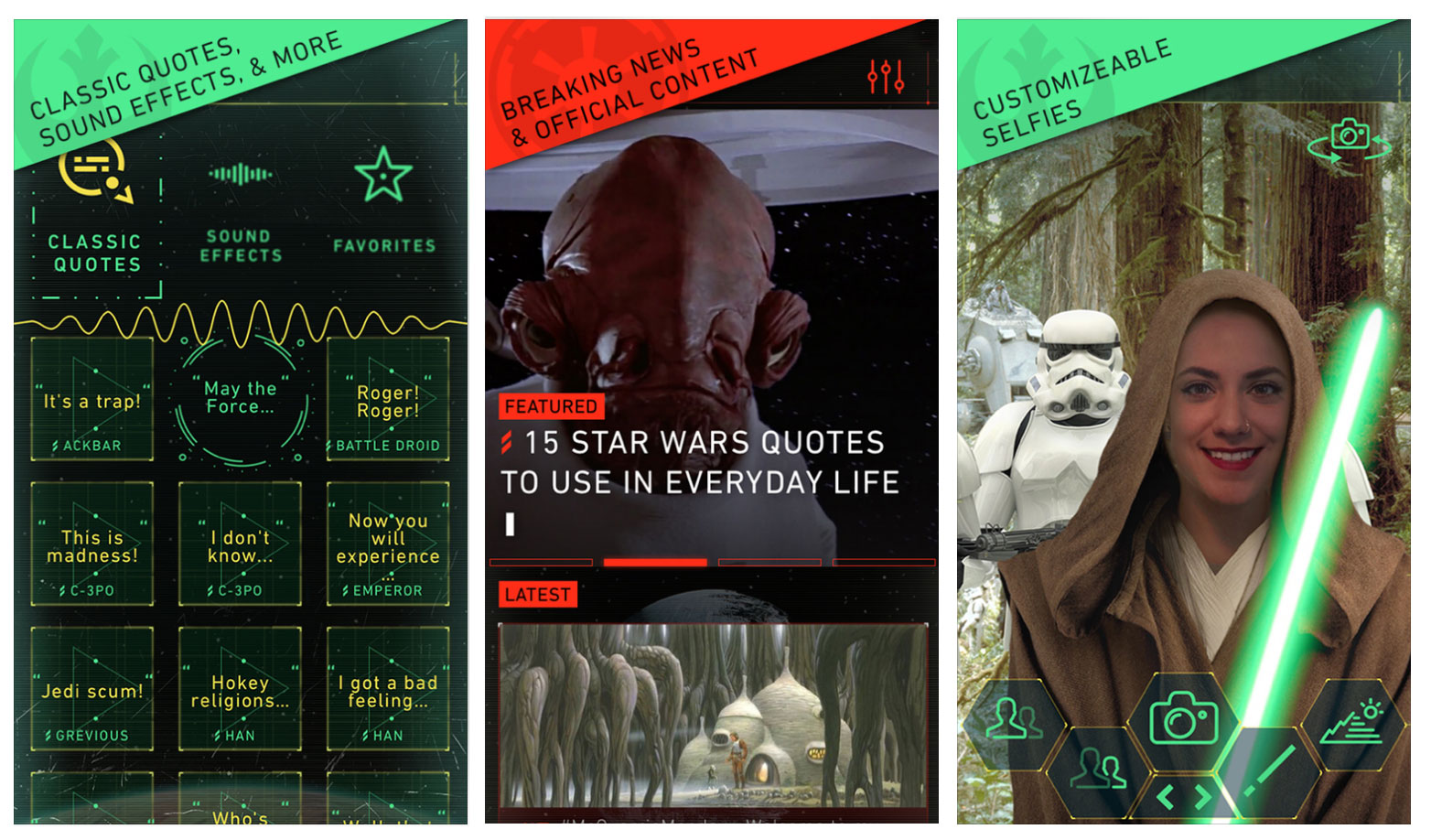 Want to be the first to hear breaking Star Wars news? Disney launched the Star Wars app this week that pushes instant notifications about new trailer releases, franchise announcements, blog posts, and updates about the upcoming film Star Wars: Episode VII – The Force Awakens.
The app, available for Google Android and Apple iOS devices, also offers a variety of content beyond just news. Additional features include Star Wars quotes, classic sound effects, Star Wars-themed weather forecasts, and a customizeable selfie photo booth (see screenshots above).
App users can make and share animated gifs, train with a lightsaber like Luke Skywalker in Star Wars: A New Hope, and access facts about the franchise in the dynamic page "This Day in Star Wars History."
Perhaps one of the more technologically advanced features of the app, users can unlock 3D characters from the Star Wars: Episode VII – The Force Awakens film with a special Augmented Reality camera feature. (See the feature in action below.)
For Android devices, OS version 4.1 or higher is suggested. On Apple, iOS version 7.1 or above is recommended. Headphones are also suggested, especially for Force Trainer that requires an internal gyroscope.
As would be expected for an app with this many features, Star Wars is a storage hog at 141MB (iOS) and 110MB (Android), so make sure there's room on your device before installing. If you've already signed up for Disney or ESPN services,  you can use the same email address when using the app for the first time.
We don't want to give it all away, so head over to Google Play or iTunes to download the free app for additional features.