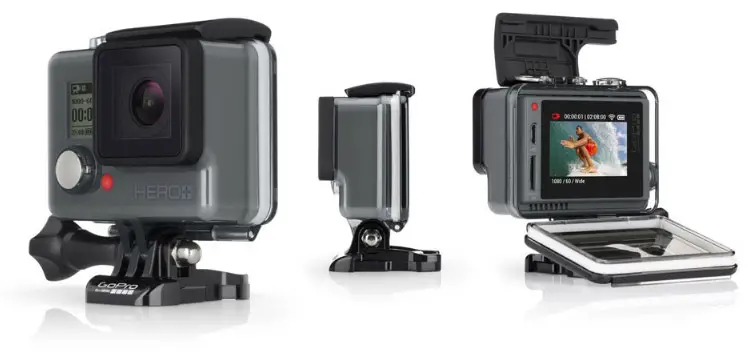 One desirable feature that's lacking in the entry-level GoPro HERO camera is touch display. But GoPro has answered customers who asked for this with the HERO+ LCD. The new entry-level camera from GoPro lets users frame shots, control settings, and access the new in-camera video trimming feature all through the new touch display.
The HERO+ LCD also shoots up to 1080p/60fps high-definition video (an improvement from the HERO that only shoots up to 30fps), and 8 megapixel still photos (another improvement over the 5 megapixel still images in the HERO). For expansion, a microSD slot can house cards up to 64GB (at least Class 10 or UHS-I).
In addition, the HERO+ LCD comes with built-in WiFi and Bluetooth for sharing and exporting files. And, the camera includes GoPro's HiLight Tagging option for marking key moments in video, making it that much easier to edit video later.
Just like the GoPro HERO, the new HERO+ LCD is built into a waterproof housing and is rated to be waterproof up to 131′ (or 40m).
While not as cool as GoPro's 16-camera VR rig revealed at Google I/O last week, at $299 the HERO+ LCD offers some nice options for an entry-level camera. But, one might question if those bells and whistles are worth that much more than the $129 base HERO model.
The HERO+ LCD will be available in the U.S. starting June 7, 2015, and internationally beginning July 12.
HERO+ LCD  Features
Professional-quality 1080p60 video and 8MP photo capture
Touch display for convenient camera control, shot framing, and in-camera playback
Built-in WiFi and Bluetooth enables connectivity to the GoPro App and Smart Remote
HiLight Tagging lets you mark key moments while recording or during playback for quick and easy editing
In-camera video trimming allows you to create short clips for easy content sharing without a computer
Power on and record automatically with the press of a single button with QuikCapture setting
Long-lasting battery delivers approximately two hours of recording time
Integrated housing design for simplicity and ease of use
Supports microSD cards (at least Class 10 or UHS-I) up to 64GB