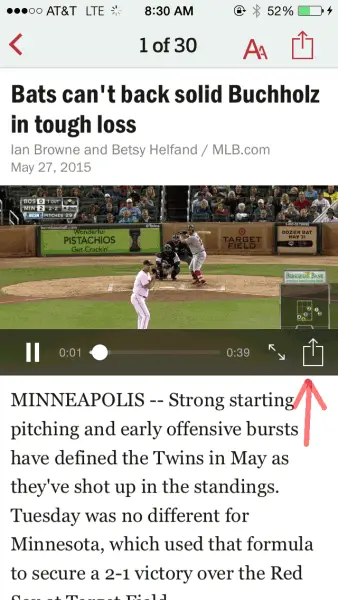 Sometimes app updates are just not worth the download time, but this one from MLB.com includes quite a few new iOS features. Version 8.2 of the MLB.com At Bat app for iOS devices adds support for Car Play, Apple's dashboard integration that puts iPhone functions right on supporting displays. With the app, users can listen to MLB games directly through the car's audio system. (If anyone has heard a quality difference between Bluetooth and the MLB app, please let us know.)
Unfortunately, Apple Car Play support does not include iPads at this time.
The new MLB.com At Bat app for iOS also adds embedded tweets into news stories, as well as gifs and photos. And, the new update allows users to share video highlights directly from the media player interface (see screenshot), making it a lot quicker to share favorite clips.
By the way, like other sports apps such as NBA Game Time and ESPN, the MLB.com At Bat app recently added support for Apple Watch. With the app, users can get live scores, stats, player cards, and other MLB content right on Apple Watches. And, MLB.com more recently added a league-wide scoreboard and access to last game results.
The MLB.com At Bat requires iPhone 4 or newer running at least iOS 7.0 or later.