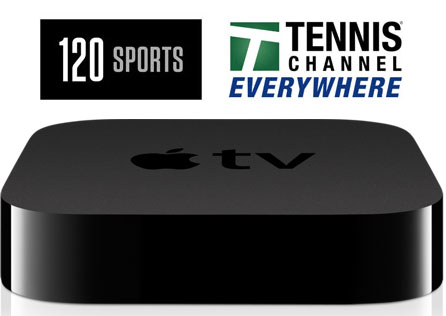 If you're an Apple TV user it's always nice to get some new channels to choose from beyond Netflix and WatchESPN. Apple recently added a couple new selections to the service including the popular Tennis Channel Everywhere app, and the 120 Sports streaming network.
Tennis Channel Everywhere provides access to select Tennis Channel programming and over 1,000 hours of On Demand content, but requires authentication from your TV service provider. In addition to, or as an alternative, tennis fans can subscribe to Tennis Channel Plus to get over 450 more matches from the French Open and Australian Open mosaics, ATP/WTA tours, Davis Cup, Fed Cup, and Hopman Cup. Tennis Channel Plus is a standalone option that costs $69.99 per year.
120 Sports provides replays, commentaries, and sports programming that doesn't require authentication from a TV service provider. The network gets its content from partnerships with leagues such as MLB, NBA, NHL, PGA Tour, NCAA football and basketball, and NASCAR. Time Inc. (owner of Sports Illustrated) is an equity investor in the network.
Want to know what other channels are available on Apple TV? Here's an updated list of Apple TV channels for your reference.