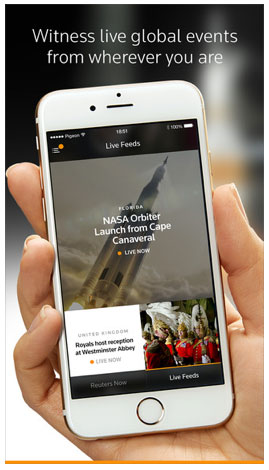 The international news agency Reuters has launched a mobile TV service called Reuters TV. The first of its kind, the service provides live and on-demand news programming via the Reuters TV app for Apple iPhone. The app was designed specifically for iPhone and is available to download free from iTunes.
"Reuters TV is news for the Netflix age: it's individually relevant, on-demand, and up-to date," said Isaac Showman, Managing Director of Reuters TV.
The Reuters TV app can be broken down into two types of content. The first is the unfiltered live streaming of video feeds from events around the world.
The second, called Reuters Now, lets users create a customized news show from 5 to 30 minutes long. The show can include on-demand, up-to-date news coverage, and content related to a user's interests and location. And, the show can be downloaded for offline viewing.
What might be most interesting about the app is how the programming is prepared for viewing. According to Reuters, the content is assembled on the iPhone itself using iOS's AV Foundation and Core Animation frameworks. The video is then distributed via HTTP live streaming.
Reuters TV is free for the first 30 days for those who want to try it out. After that, subscriptions cost $1.99 [1.49 pounds] per month.
The app for iPhone requires iOS 8.0 or higher. Reuters did not indicate if an iPad-compatible or Android version was in the works.