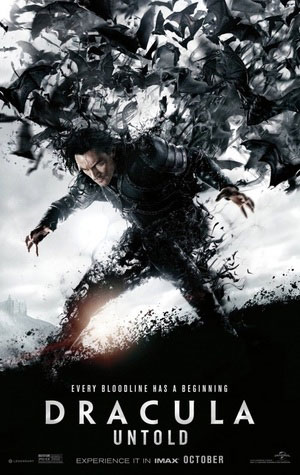 Universal Picture's Dracula Untold has been released early to Digital HD, pre-dating the Blu-ray, DVD, and On-Demand releases on February 3rd, 2015. The film was directed by Gary Shore (in his first major film debut) and stars Luke Evans (The Hobbit: The Desolation of Smaug) as Vlad the Impaler in this origin story of Dracula.
Dracula Untold is not currently available through all the online video services we typically list. However, Amazon, Apple, Google, Sony, and Xbox all have Dracula Untold selling for $14.99 (HD/SD). The iTunes digital purchase includes iTunes Extras, with alternate opening, deleted scenes, and several featurettes.
If you can wait, the two-disc Blu-ray Disc edition of Dracula Untold will include a DVD and Digital HD copy redeemable with UltraViolet or iTunes.
For those of you building up your UltraViolet-based digital movie collection, UV-supporting digital services include Flixster, Target, Walmart's Vudu, and Best Buy's Cinema Now.
Dracula Untold Digital HD/SD Price Comparison*
Amazon Instant Video – $14.99 (HD) $14.99 (SD)
Apple iTunes – $14.99 (HD) $14.99 (SD)
Best Buy Cinema Now – Not Available
Flixster – Not Available
Google Play – $14.99 (HD) $14.99 (SD)
Sony Entertainment Network – $14.99 (HD) $14.99 (SD)
Target Ticket – Not Available
Verizon FiOS On Demand – Not Available
Vudu – $14.99 (HD or HDX) $14.99 (SD)
Xbox Video – $14.99 (HD) $14.99 (SD)
Xfinity On Demand – Not Available
*Prices at time of article publication.