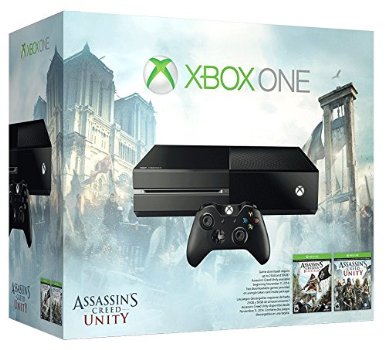 Microsoft must not have sold enough units of the Xbox One Assassin's Creed Unity Bundle over Black Friday weekend, because the price of the bundle has dropped to $329. The bundle had already been available at a reduced price of $349, but Microsoft has just dropped the price by another $20 bucks. The original price of the bundle was $399.
This is the Xbox One console with 500GB hard drive, by the way, that comes with one wireless controller and chat headset. The bundle includes access to download Assassins' Creed Unity and Assassin's Creed IV: Black Flag. Those who order from Microsoft also get a free game from a selection of titles that include Halo: The Master Chief Collection, FIFA 15, and Dragon Age: Inquisition for Xbox One among other titles.
The Xbox One Assassin's Creed Unity Bundle is available at the reduced price of $329 for a limited time at the Microsoft Store, Amazon, and other participating retailers that match pricing.