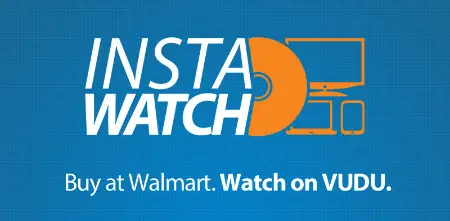 Walmart has launched the InstaWatch service for use with Vudu accounts that gives customers a digital copy of every eligible Blu-ray Disc or DVD that's purchased at a Walmart store or online at Walmart.com. Previously, digital copies could be purchased for a small fee through the company's in-store disc-to-digital program. But the new InstaWatch service expands digital licensing to select movies that may not have been bundled with a downloadable digital copy.
As of now, the list of titles that automatically come with digital copies through Vudu exceeds 1,200, with Blu-ray titles currently accounting for about half of that number. The titles come from distributors such as 20th Century Fox, Lionsgate, Paramount, Sony Pictures, and Universal among others.
The new digital option works with Walmart's new "Savings Catcher" feature with which customers can scan a receipt of their disc purchase with the Walmart app for smartphones. Or, customers can find a confirmation email if the product was purchased online. Of course, customers will need both a Walmart and Vudu account to get the digital copies, both of which are free to sign up for.
There is one hitch though. For those planning on doing a store pickup of online orders the digital copy isn't available until you actually pick up the order. So, if there's a long delay before you can pick up the physical order — either because of your schedule or Walmart's availability of the item — you'll have to wait for the digital access as well.
The Walmart app is available for Android and iOS devices via Google Play and Apple iTunes, respectively.
Walmart purchased Vudu in 2010, and introduced the disc-to-digital service two years later.