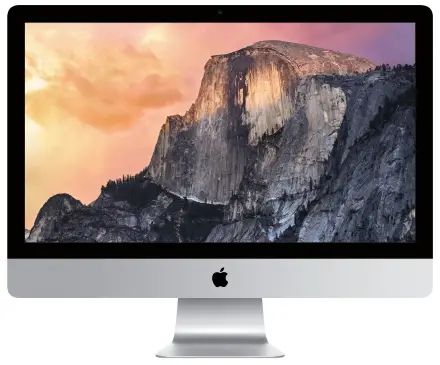 Apple always seems be pushing image resolution further than the norm, as evidenced with their lineup of Macbook Pros, iPads and iPhones with high resolution Retina displays. Now the company's new 27-inch iMac has introduced 5k with over 14.7 million pixels delivered in 5,120 x 2,880 resolution. The detail in Apple's 5k display adds up to more then 4-times the amount of pixels than the standard 27-inch iMac.
The 5k iMac runs OS X Yosemite on a 3.5 GHz quad-core Intel Core i5 with Turbo Boost speeds up to 3.9 GHz. For graphics the iMac utilizes an AMD Radeon R9 M290X graphics processor, and standard memory includes 8GB RAM with 1 TB storage. A couple Thunderbolt 2 ports deliver up to 20Gbps each to the display.
Alternatively, the iMac be upgraded with a 4 GHz quad-core Intel Core i7 processor (Turbo Boost speeds up to 4.4 GHz), AMD Radeon R9 M295X graphics, up to 32GB memory, and three times the storage with a 3TB Fusion Drive. A third option offers 1TB of PCIe-based flash storage.
The base 27-inch iMac with Retina 5K display and TB Fusion Drive sells for $2,499. At that price, it's a great solution for editing 4k video that can be displayed at 100% with room left for over for tools and palettes.