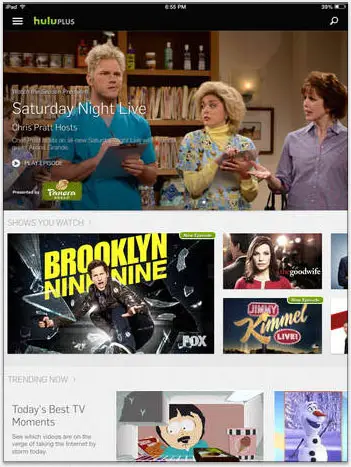 Hulu has updated the iOS app for iPad, iPhone and iPod touch devices with a new design, and added optimization for iOS8 and the just-released iPhone 6 and iPhone 6 Plus. According to Hulu the new design offers a more "focused and simple experience," with the home screen of the app featuring content curated by the company's editorial team.
New swiping features let you easily find shows you typically watch (with a left swipe from anywhere within the app), access the app's navigation (a right swipe from anywhere within the app), and load the "Action Tray" with search, play queue, and other content (by scrolling down from the top of any page).
Other updates include a new video player design, improvements in search results, social sharing with Facebook, Twitter, text and email.
You can also stream and control Hulu on a TV set via Apple TV, Chromecast, Xbox One, PS3 and PS4.
Unfortunately, only Hulu Plus subscribers can dig into the new app design. Non-subscribers can, however, view content on Hulu.com with commercial interruptions.