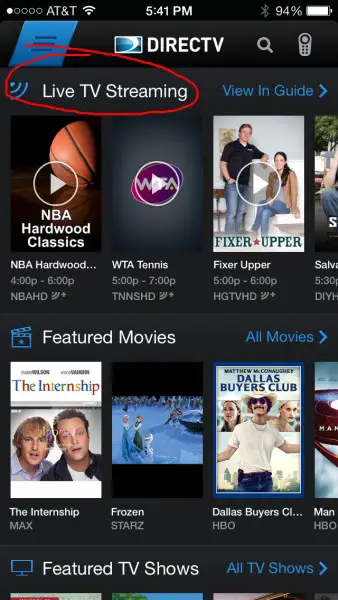 If you're a DirecTV customer the latest update to the Android and iOS phone apps is certainly worth your time. While streaming live TV (even away from home) has been a feature of the DirecTV app for some time now, the newest app version brings live streaming right to the forefront. The app adds a Live Streaming module that lets subscribers stream live TV and movies right from the homepage of the phone. In past versions the feature wasn't as seamless, and finding available content wasn't always easy. This update makes the process all that much quicker. 
(See the image to the right for a view of the new DirecTV iPhone app homepage, and the video play that follows after clicking on the HGTV show "Fixer Upper" below.)
The app for both platforms also fixes an issue where the channel Guide would jump back to Channel 2 after viewing a program's details.
And, both the Android and iOS DirecTV apps include performance enhancements and bug fixes.
The DirecTV app for iPhone (Version 3.6.007) is available to download free at Apple iTunes. The app for Android phones (Version 3.6.006) is available at Google Play also free-of-charge.