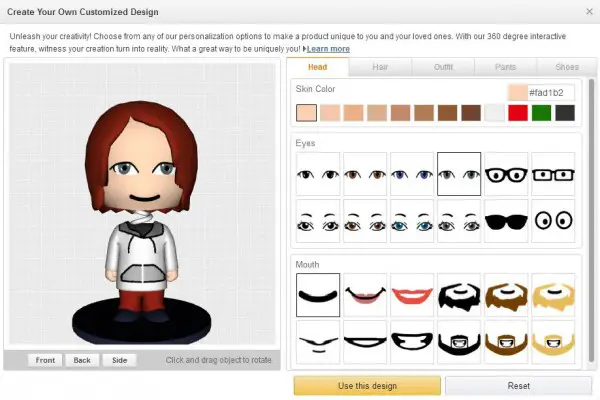 Amazon is joining the 3D-printing revolution with the launch of a store and over 200 products to start. The Amazon 3D Printed Products store provides an interactive product personalization widget that allows customers to select material, size, color and style for initial launch products such as earrings, pendants, rings, bobble head dolls. The widget gives customers view a 360 degree rotation of a virtual model, which they can then send off for on-demand printing to a partnering Amazon manufacturing provider.
At launch Amazon has some customizable products for under $40 including cufflinks, bobble head figurines and wine glass holders. Customized jewelry products average around $100.
"The introduction of our 3D Printed Products store suggests the beginnings of a shift in online retail – that manufacturing can be more nimble to provide an immersive customer experience," said Petra Schindler-Carter, Director for Amazon Marketplace Sales.
While 3D printers are becoming smaller and less expensive for home use, not everyone is ready to model their own products or invest in a printer. Amazon's new store makes it easy for customers to try customizing their own products for production without time or financial investment.
"The personalization widget empowers customers to make something unique in seconds without knowing how to 3D model," said Nancy Liang, co-founder for Mixee Labs, headquartered in Brooklyn, New York.
The Amazon 3D Printed Products store is also open to partnering with designers to offer additional customizable products.