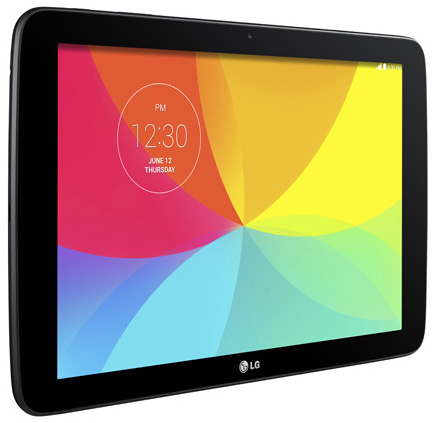 LG has officially introduced their new G Pad tablets in 7.0 & 10.1 sizes nationwide. So far you can find the LG G Pad 7.0 (MSRP $149) at Best Buy and New Egg, but we haven't yet spotted the 10.1″ model (MSRP $249) anywhere.
Both the G Pad tablets feature 1280 x 800 IPS HD display resolution, a 1.2GHz Quad-core processor, 1 GB RAM, Micro SD Slot (up to 32GB capacity), and Android 4.4.2 "KitKat" operating software, and LG's security feature called LG Knock Code.
And, the G Pad 7.0 and 10.1 models include Q PAIR 2.0 software for pairing your Android phone (4.1 or later) with your tablet. The pairing will let you receive calls and text messages directly on the tablet.
Where the two tablets differ (besides screen size and price) is mainly in the expansion of RAM of which the 10.1 model can be upgraded to 10.80 GB usable memory while the 7.0 model only expands to 3.89 GB.
In addition, both G Pad models have a 1.3 megapixel front-facing camera but the 10.1 model has a higher resolution 5 megapixel rear-facing camera. The 10.1 also has a dual speaker.
The LG G Pad 7.0 is available in Black, White, Luminous Orange and Luminous Blue and LG G Pad 10.1 will come in Black and Red finish.