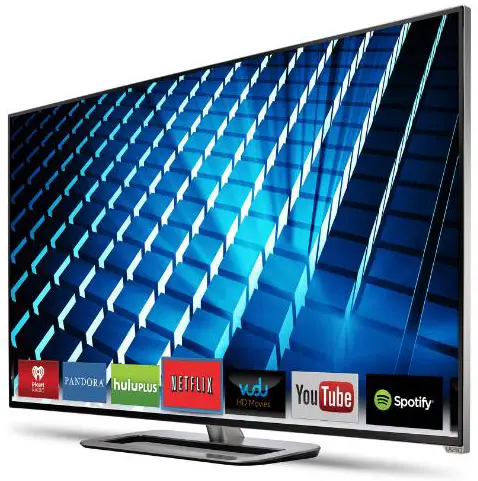 Vizio has started shipping their new line of 2014 M-Series HDTVs ranging in screen size from 32-inches to 70-inches. The M-series TVs feature full-array LED backlighting and up to 36 Active LED zones for greater image contrast and detail. Most models also incorporate Clear Action Rate 720 for enhanced motion clarity with a 240Hz effective refresh rate. The M-Series technology effectively doubles the number of Active LED Zones, and gives a boost to the Clear Action performance.
The M-Series TVs also include VIZIO Internet Apps Plus for Smart TV functions such as Netflix and Hulu Plus among other entertainment apps, second screen interaction on phones, tablets and smart TVs. The Vizio smart remote control makes also includes a backlit QWERTY keyboard to better usability.
Vizio is now shipping the M-Series to retailers such as Amazon, Best Buy, Costco, Sam's Club, Target, and Walmart, as well as the VIZIO.com online store. List prices range vastly from $329 for the 32-inch model to $3,199 for the 80-inch class. See the chart below for all prices and sizes available.
VIZIO 2014 M-Series LED HDTVs
| | |
| --- | --- |
| 32″ Class (M322i-B1) | $329.99 (MSRP) |
| 42″ Class (M422i-B1) | $529.99 (MSRP) |
| 49″ Class (M492i-B2) | $699.99 (MSRP) |
| 50″ Class (M502i-B1) | $699.99 (MSRP) |
| 55″ Class (M552i-B2) | $899.99 (MSRP) |
| 60″ Class (M602i-B3) | $1,249.99 (MSRP) |
| 65″ Class (M652i-B2) | $1,499.99 (MSRP) |
| 70″ Class (M702i-B3) | $1,899.99 (MSRP) |
| 80″ Class (M801i-A3) | $3,199.99 (MSRP) |